Verizon 4G LTE adds over 20 new markets today, more next month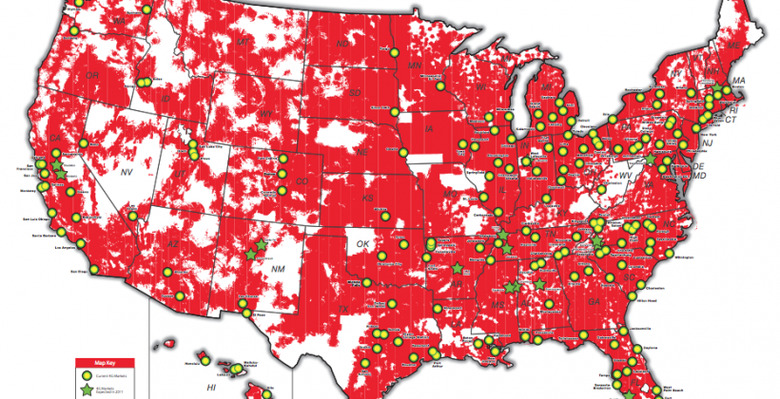 Verizon's 4G LTE coverage is adding more than 20 new markets today and the company has scheduled another batch of markets to light up next month. In fact, with its next batch planned for November 17, Verizon will already surpass its original target of 175 markets by year-end. In contrast, AT&T's 4G LTE may only reach 15 markets by the end of the year.
It's hard to keep track exactly how many markets Verizon has lit up so far, as the company issues separate press releases for each market. Some of the new markets officially scheduled for today have already been lit up in the days leading up, but here's a list of some of them:
-Birmingham, Ala.
-Modesto and Stockton, Calif.
-Fort Myers, Fla.
-Bloomington, Elkhart, Evansville, South Bend and Terre Haute, Ind.
-Sioux City, Iowa
-Hagerstown, Md.
-Tupelo, Miss.
-Albuquerque and Santa Fe, N.M.
-Buffalo, N.Y.
-Asheville, N.C.
-Bartlesville, Okla.
-Jackson and Martin, Tenn.
-Greater Hampton Roads and Richmond, Va.
-Green Bay, Wis.
If you're area still isn't covered, it probably will be soon. And Verizon has plenty of 4G LTE devices for you to choose from to take advantage of its high speed network. They include the LG Revolution, the HTC Thunderbolt, the Samsung DROID Charge, and the DROID BIONIC, which is currently the only dual-core LTE smartphone available on the market. Soon, you can expect the just announced Motorola DROID RAZR and the Google Galaxy Nexus running Android 4.0 Ice Cream Sandwich.
[via Android Community]