Verily Study Watch is a health wearable designed for medical use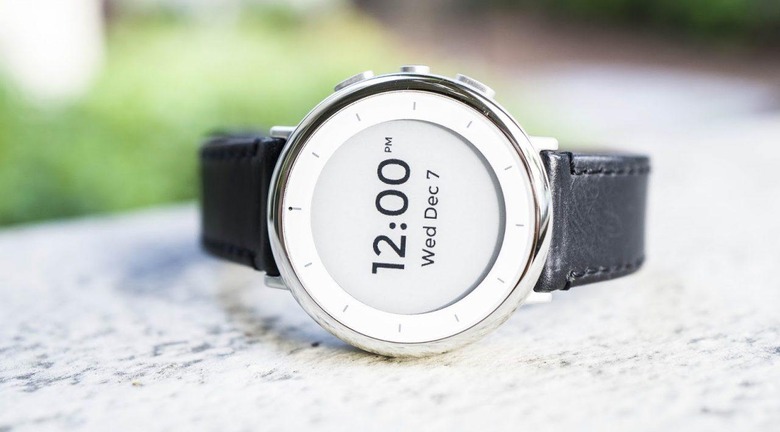 Alphabet has officially introduced the Verily Study Watch, an unassuming smartwatch packing a bunch of features tailored for the medical and health industries. This watch uses a variety of sensors to monitor a vast array of health metrics, storing the encrypted data on the device until it is synced with Verily's cloud-based platform. Unlike most smartwatches, the Study Watch's battery can go all week without charging, and the internal storage can hold multiple weeks of raw data in between syncs.
This isn't the first time we've seen this watch, but it does mark Alphabet's latest detailing of the wearable. Verily says the Study Watch features a 'low power' display, which appears to be an e-ink panel in the photo, though that's never explicitly stated. The display is always on, according to the company, showing the date and time. In its present form at least, users don't have access to information other than those two things, plus 'certain instructions.'
Despite its small size, Verily says this wearable sports a 'powerful processor' (that wasn't detailed further) capable of handling real-time algorithms directly on the watch itself. Data compression coupled with a large degree of internal storage means the device can hold multiple weeks of raw data, eliminating the need for users to frequently sync the wearable with the cloud. This is joined by a battery able to run for up to one week before needing charged again.
Joining all of this are 'multiple physiological and environmental sensors' that can keep tabs on a large array of health metrics, including electrodermal activity, cardiovascular data, inertial movements, heart rate, movement disorders, and ECG data. Unlike an ordinary consumer-tier health wearable, the Study Watch is designed specifically to gather data for large academic and medical studies helping shed light on disorders, among other things.
Participants are able to put on the Verily Study Watch and then go weeks without messing with it, charging aside, ultimately providing the study's operators with a bunch of data. Verily says the watch has already been used in multiple observational studies, and it is slated to be used as part of an upcoming Baseline study aiming to learn about the transition point between diseases and health.
SOURCE: Verily