Venture Coolers are like the camping version of OtterBox phone cases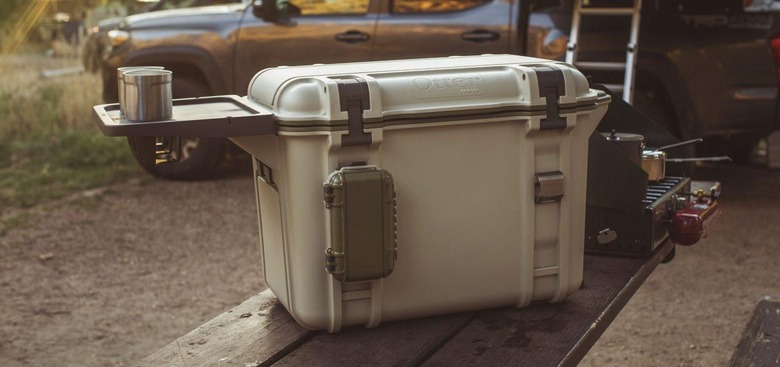 If you're going camping this summer, there's a decent chance your phone will be protected inside an OtterBox case. The same may be true for your lunch, as it turns out. OtterBox has taken the wraps off its new Venture Coolers, a lineup of rugged boxes designed for holding food and ice rather than gadgets. The coolers are being offered in three different sizes and include things like an integrated cutting board, organization slots, and various durable accessories, among other things.OtterBox accessories line includes earbuds and chargers
OtterBox is perhaps best known for its ultra-durable phone cases, but it has also dabbled in the world of durable boxes, and the new Venture Coolers are no exception. These models are designed for serious outdoorsy folks who want to head out into the hot, harsh wilderness without sacrificing their cold beverages and fresh foods.
Unlike many coolers, though, the OtterBox Ventures takes things to the next level with built-in tools and more. The Venture Coolers can preserve ice for up to two weeks straight, no doubt depending on how often the cooler is opened. It also contains clips and mounting points for attaching accessories, as shown in the video above. A small OtterBox case can be attached to the back of the cooler; included cutting board and cup holders can be removed from inside the cooler and mounted on the outside, as well. There's also a dry storage board.
The coolers are available in Venture 25/45/65 sizes, the smallest of which (the 25) being priced at $249.99 USD. The Venture 45 is priced at $349.99 and the Venture 65 is priced at $399.99 USD. As well, the coolers are being offered in three different color schemes: white and blue called Hudson, tan and green called Ridgeline, and Realtree Xtra camo called Back Trail.
SOURCE: OtterBox