Velocity Micro Raptor MultiPlex merges home theater with gaming prowess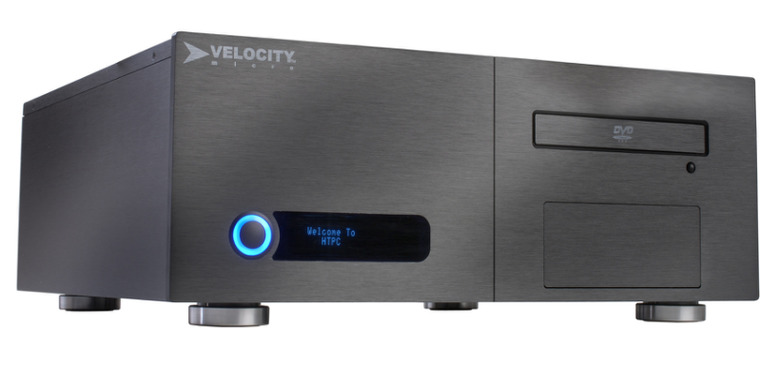 One of the most interesting customizable systems to ever come from the team at Velocity Micro is here this week: the Raptor MultiPlex, complete with gaming and home theater features made to blow the market apart. This beast is meant to bring Velocity Micro into the world of both home theater aficionados and those that want the best of the best in gaming hardware. It all begins with a lovely solid aluminum case and output made for top of the line 1080p presentations for your HDTV.
This machine works with an ASUS P8Z77-V Pro Motherboard with the ability to connect to your peripherals with Thunderbolt. Attached you'll find a lovely Intel Core i5 or Core i7 processor (3rd gen, of course, Ivy Bridge it is), and 16GB DRR3-2133 memory. Your setup in its out of the box form will work with an NVIDIA GTX600 series graphics processing card and will be more than ready to take on all next-generation games throughout 2013 – and beyond!
You'll find Intel 520 series solid state boot drives in this amalgamation of greatness along with up to three 2TB Hard Drives configured to be tough in RAID 5. Each system works with Windows 8 Pro and is ready and willing to act as your premiere home theater controller. The Raptor MultiPlex works with Digital TV tuners able to work with up to 4 recordings concurrently.
You'll also be working with S/PDIF out for High Definition 9.1 Channel audio and will be able to play Blu-rays at 1080p via PowerDVD12. Most of these options are also upgradable – pick up an NVIDIA GTX 660 Ti, 670, or 680 if you're feeling like you want to break out with the nicest of the nice. The base price for this setup is $1,849 USD, and you'll be able to upgrade across the board straight from the Velocity Micro online shop – go big!