Velocity Micro Intel Core i7 PCs announced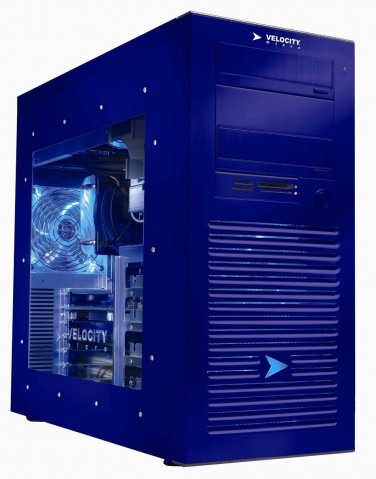 Velocity Micro have announced a new PC range based on Intel's freshly-announced Core i7 processors.  The Core-920, Core-940 and Core-965 Extreme will all be offered on select models in the company's Edge, Raptor, ProMagix and Vector models, with prices starting at $1,699.
The launch system, pictured above, is the Velocity Micro Edge Z55 Launch Edition, with an Intel Core-920 processor running at 2.66GHz, 3GB of triple-channel DDR3-1333 RAM, a 500GB 7,200rpm hard-drive and DVD burner.  That retails for $2,199; upgrading to the Core-940 costs a further $360, while choosing the Core-965 Extreme adds $985.
Systems based on the new Intel processors will begin shipping on November 25th.  They'll also be available in Best Buy, MicroCenter, Circuit City and select Staples retail stores nationwide together with other online vendors.
Press Release:
Velocity Micro® First to Ship New Intel® Core™ i7 Processor Systems

New processor technology immediately available in both direct and retail systems from Velocity Micro

Richmond, VA – Nov 17, 2008 – Velocity Micro, the premier independent builder of custom, high performance computers, notebooks, and workstations, announces today the immediate availability of ultra performance desktop PCs powered by Intel Core i7 and Intel Core i7 Extreme Edition processors. Faster and more efficient than their Core 2 predecessors, Intel Core i7 processors provide increased performance in gaming, digital media creation, and multitasking. By combining their trademarked precision craftsmanship and the record breaking performance of this revolutionary processor, the Intel Core i7 processor-based offerings from Velocity Micro set the new standard in power and productivity.

"We've always made it a priority to provide our customers with the very latest technology," said Randy Copeland, President and CEO of Velocity Micro. "With the launch of the Core i7, we're able to fulfill the immediate need of our enthusiast customers, giving them a remarkably fast PC that blows the doors off of everything else we've ever built."

With increased memory bandwidth and new Intel® Turbo Boost Technology, Velocity Micro's Intel Core i7 processor-based systems promise seamless gaming and multitasking. Additionally, the eight available threads of the Intel Core i7 processor, twice as many as the Core 2 Quad, translate into astonishing performance increases for the digital media creator. And with immediate availability of both direct and retail offerings, Velocity Micro will be a major provider of Intel Core i7 processor technology in North America at launch. Velocity Micro will offer systems with the mainstream Intel Core i7 920 and 940 processors, and the Intel Core i7 965 Extreme Edition, in a variety of Edge™, Raptor™, ProMagix™, and Vector™ lines, starting at $1699.

"We're excited to work with Velocity Micro on the launch of the Core i7," said CJ Bruno, Intel VP & GM, Americas Sales & Marketing Organization. "We've worked diligently to develop the most advanced processor on the planet, and have succeeded with the Core i7. Velocity Micro customers will be extremely impressed with the performance of this processor in gaming, digital media creation, and multitasking applications."

To configure or find a retail provider of Velocity Micro PCs powered by Intel Core i7 processors, visit www.velocitymicro.com.

ABOUT VELOCITY MICRO, INC.

Velocity Micro, Inc. is the premier high-performance personal computer provider in North America. Founded in 1992, Richmond, Va.-based Velocity Micro custom builds award winning gaming, mobile, multimedia, home office, small business, pro workstation, and visual supercomputer solutions. Velocity Micro consumer systems are available at Best Buy, MicroCenter, Circuit City, and select Staples retail stores nationwide, as well as online vendors Amazon.com, Newegg.com, TigerDirect.com, CompUSA.com, and many others. For more information on Velocity Micro, please visit www.velocitymicro.com or call (800) 303-7866.

Velocity Micro has earned over 45 industry awards, including 11 PC Magazine Editor's Choice awards. CNET, Maximum PC, Mobile PC, PC World, Computer Gaming World, Computer Shopper, and PC Gamer editors have all chosen Velocity Micro systems as some of the industry's best-performing, highest-quality, and most reliable PCs.