Velocity Micro CineMagix FuzeBox Home Media Server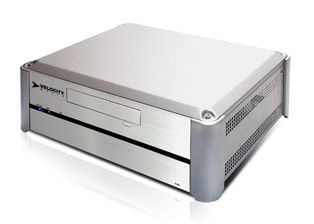 Velocity Micro have announced their latest home media device, the CineMagix FuzeBox Home Media Server, intended as a closed-box solution for all a user's management, storage and distribution needs.  Capable of backing up and distributing DVD and Blu-ray discs, together with receiving and recording Digital CableCard broadcasts, the CineMagix FuzeBox is intended for both professional and consumer installs.
What makes it special is the locked graphical interface, which reduces the likelihood that the user – whether that be a visitor, non-tech-savvy spouse or child – can break or disable something.  It uses the home network to distribute to up to five separate audio zones simultaneously, as well as stream video content, photo slideshows and more.
The CineMagix FuzeBox is available to order now, with a minimum spec of a Core 2 Duo processor, 4GB of RAM and a quiet cooling system.  Storage ranges from 750GB – enough for 100 movies and 4,000 songs – to a 1TB RAID array capable of holding up to 130 movies and 6,000 songs.  Alternatively, the FuzeBox Pro supports up to 9 audio zones and 6 video zones. Prices start from $1,995.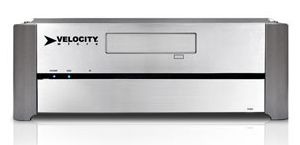 Press Release:
Velocity Micro Announces the Release of the CineMagix FuzeBox

Revolutionary home media server is industry's first total whole home theater convergence device

Richmond, VA — October 8, 2008 — Velocity Micro, the premier independent builder of custom, high performance computers, notebooks, and home theater systems announces the immediate release of an innovative new closed-box home media server solution, the CineMagix FuzeBox Home Media Server. Utilizing an innovative interface and Velocity Micro's trademarked expert engineering, the FuzeBox manages, stores, and distributes pictures, music, and video throughout an entire home, making it the first and only whole home media experience on the market.

"For years, consumers have been struggling to find a home theater solution that will simply and efficiently help them manage their digital lives," said Randy Copeland, President and CEO of Velocity Micro. "The FuzeBox, with its simple interface and dynamic features, provides exactly what that consumer is looking for—a whole home media experience in one system."

Velocity Micro paired with Fuze Media Systems to create and develop the innovative interface and perfect the meticulous build of the FuzeBox. As a result, the FuzeBox is a home media server device so simple and stable, literally anyone can use and enjoy it. Key features include:

· Digital Cablecard support for watching and recording digital content without a cable box or DVR;

· Multiple audio zones for playing different music selections in various zones throughout a home using either a wireless or wired network;

· The capability to back up and distribute DVDs and Blu-Rays to various video zones

· Whole home storage server capability for music, photos, video, and data;

· Tremendous redundant storage capacity of up to two terabytes means space for over 300 movies and 8000 songs;

· Multiple control options for remote management of all media server aspects including playing and controlling music and video from anywhere on the network;

· Simple installation by end users or media professionals;

· Locked graphical user interface that can't be broken by casual users.

The CineMagix FuzeBox will be configurable from $1,995, directly from Velocity Micro. Visit VelocityMicro.com/FuzeBox for more details.