Valve Index VR Headset Kits Released, For Real This Time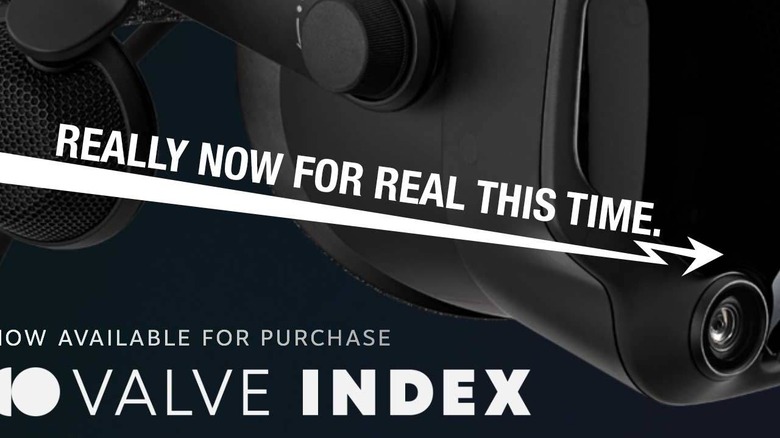 The folks at Valve released new Valve Index VR headset kits today for immediate shipping in the USA. The Valve Index VR system was actually first released in late June, but "initial quantities were outpaced by demand." As Valve tells us today, "users were asked to reserve their hardware as new kits were in production." Today's the day when new kits begin to ship.
The Valve Index VR headset is an interesting monster. It's sorta the same thing as the HTC Vive – but not really. You can use the Valve Index VR headset with HTC Vive Controllers and Base Stations. You can also use the Valve Index controllers with an HTC VIVE, provided it's the RIGHT HTC Vive.
If you have a Vive or a Vive Pro, you can buy and use the Valve Index Controllers. If you have a Vive Pro and want to use the Valve Index Base Station, you can do that too. You'll want to buy two or more of those Index Base Stations if you want the system to work properly.
If you want to use the Valve Index Headset, you can do that – on its own, if you want, just so long as you have the controllers, Base Stations, and a PC that's powerful enough to handle the VR system. Your PC will need at least Windows 10, Steam OS, or Linux. It'll need 8GB RAM or more, as well as an NVIDIA GeForce GTX 970 or higher or an AMD RX480 or higher.
You'll need a DisplayPort – HDMI not supported. How strange! Your PC will need to have a dual-core CPU or better, with hyperthreading, or better. USB 3.0 or higher is required to make use of the headset's cameras. You can learn all about this gorilla of a plug-and-play do-whatever-you-want VR headset and system over at Valve right this minute. Don't expect to walk away with a full wallet – this isn't going to be a cheap trip!
According to a Valve representative, orders are available today for customers in the USA. A "similar announcement" will be appearing soon for other US SKUs "as well as those in other international territories." It's been promised by Valve that "all prior reservations will be honored."