Valve debuts VR spectator mode for DOTA 2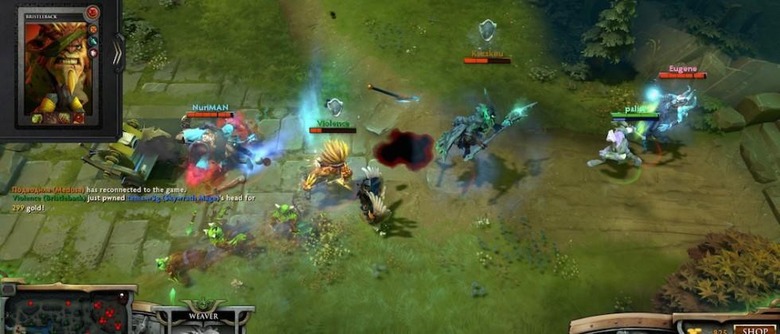 Valve has just teased a new virtual reality-compatible spectator mode for the immensely popular MOBA (multiplayer online battle arena) game DOTA 2, one of the biggest titles in the growing trend of e-sports. The new mode is seen in a video clip on the SteamVR website, highlighting how the VR experience enhances spectating for fans. An e-sports match is played out in 3D right in front of a viewer, while additional information can be seen just looking to the sides of the map.
The gameplay is still presented in same top-down, fixed camera angle as players normally see, but in VR spectators can look the left and right to see stats like the characters a team is using, score, and holographic infographics that can be navigated with a controller.
This is far more immersive than DOTA 2's standard spectator mode, which allows viewers free movement of the camera, but nowhere near as many stats or other details. The game is already well-regarded for its spectating features, allowing anyone to watch matches from the pro to amateur levels directly in the client. Adding VR to the mix is likely to be one of the biggest enhancements to come to e-sports and MOBA games in some time.
Unfortunately, Valve makes no mention of when this new mode for DOTA 2 will be available. It's guaranteed to work the HTC Vive when it does launch, but there's no word on other SteamVR devices that will be supported.
SOURCE Valve/SteamVR