Vaja add iPhone nano category to case listings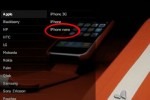 Vaja has become the next case manufacturer to add an iPhone nano category to its online listings, further fuelling the rumor that Apple are planning a compact version of the existing iPhone 3G.  The option is listed, as with XSKN, alongside the two existing iPhone models, but currently links only to an email update registration page.
While the multiple mentions of a presumably smaller iPhone would seem to indicate Apple's intent in the cellphone market, it still can't be considered any more than speculation.  Apple does not confirm upcoming models with third-party accessory developers, and as such Vaja (and others) can only be going either on the same rumors we're hearing or inside information from Apple's hardware partners. 
It's been suggested that those leaky reasons are Apple's motivation for buying up – or buying into – firms whose components or intellectual property it uses in its range.  Don't forget, SlashGear will be live-blogging the January MacWorld Apple keynote, and we'll be bringing you full details on whatever – iPhone nano or otherwise – Apple announce.
[via iPhone Buzz]