Using picture-in-picture on your Mac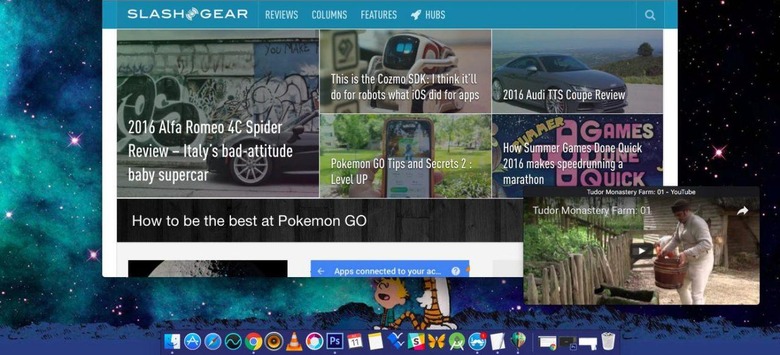 Watching a video on a Mac while doing other things can be tricky. In some situations, having a small media player window floating in the corner is the best option; in other cases, you may use Split View to keep the video visible. Both of these solutions are annoying, though, and you've probably looked at iOS 9's picture-in-picture feature with a hint of jealously. While Apple doesn't offer that feature in macOS (yet), there are some apps that add the functionality and they're a breeze to setup.
Helium
Helium is arguably the best app for the job, and it's free to use. Once installed, the app sits on top of your desktop windows regardless of where you click; you can resize it however large or small you'd like. Helium supports both local content and streaming content, with users simply entering a URL or selecting a file in the "Location" menu option:

Helium is great for one big reason: it stays where you put it no matter what, whether you're in fullscreen or windowed view, when you toggle over to a different desktop space...it really is great when you want to place a video and then not have to touch it again.
The only downside with Helium that I encountered was trouble switching to a new source. Once a location was entered, Helium disappeared from the task menu and clicking the app didn't bring its menu back. Thus, the app has to be closed, then reopened for the "Location" menu to reappear. A minor hassle in the grand scheme of things.
VLC
VLC is less convenient — and in some cases entirely unsuitable — if you want to stream content from an online video destination. For local content, though, the app is great for picture-in-picture with one small menu tweak: "Float on Top." This feature is easily set in Preferences, but it is hit or miss for users: some report it working as intended, and others report it not working at all. As well, it won't work when you switch to fullscreen video in a different app, so it's only really suitable for playing local files in certain situations.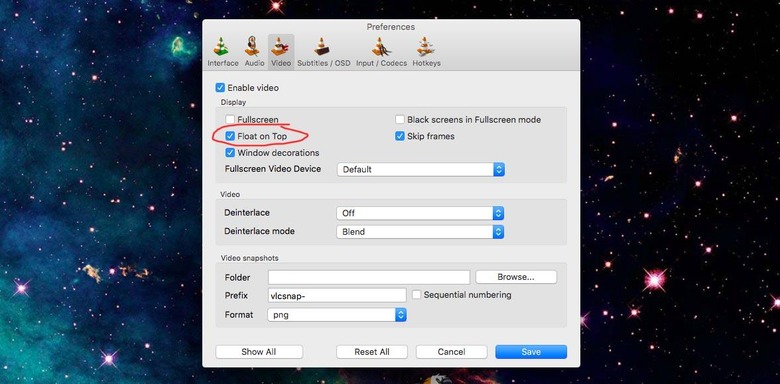 QuickTime Player
Finally, there's QuickTime Player; it may not play as many file types as VLC, but the "Float on Top" feature works all the time, and it may be a better option if your video files are supported by it. As with VLC, just open the app, then click "View" and choose "Float on Top." The window will remain on top of other windows.

Note: Apple is bringing picture-in-picture with macOS Sierra, which is coming this fall. Check out our preview of the OS here!