USI MID-160 'World's Thinnest': WiMAX, GPS, 3G & just 1.5cm thick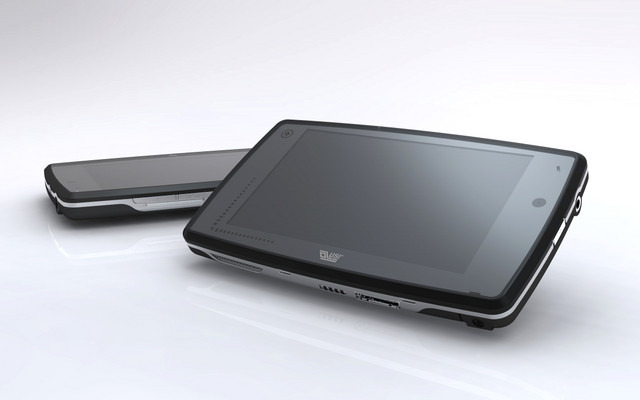 If you're going to make a Mobile Internet Device (MID) and you want to take on PMPs or, heaven forbid, the iPhone 3G, then you better make sure it's compact and attractive.  That's at least one lesson USI have learnt with their MID-160, apparently the "world's thinnest" MID and bearing a 5-inch 800 x 480 touchscreen, WiFi, WiMAX and 3G WWAN in something just 1.5cm thick and weighing 250g.
Based on an unspecified Intel Atom processor, the MID-160 has 512MB of RAM, an 8GB SSD for storage, microSD slot, Bluetooth and GPS.  It also has a 3.5mm headphone jack, front-facing webcam and what looks to be a capacitive power button and scroll-strip.  In fact it's unclear whether the USI device has a resistive or capacitive touchscreen.
There's no word on pricing or availability, but the suspicion is that the USS MID-160 is an OEM product in search of a brand.  Here's hoping they find one soon.
Press Release:
October 21, 2008 (Taipei, Taiwan): USI, a leading DMS company, showcased the world's thinnest Mobile Internet Device (MID) based on the Intel® Atom™ processor at the Intel Developer Forum (IDF) in Taipei, Taiwan. The USI MID-160 is a good example of USI's expertise in miniaturization technologies and systems integration and will make it possible to enable consumers to carry the full Internet in their pockets.

The MID-160 adopts a 5-inch 800×480 pixel touch screen with 167,000 colors in a seamless ID design. With a 250g weight and a 1.5cm thickness, the MID-160 is the thinnest Intel Atom processor-based MID launched to-date in the world. Supported by an 8GB solid state disk (SSD) and with a microphone and instant communication softwares installed, users can communicate on the Internet anywhere at any time, achieving the aim of communication without borders.

Gilbert Wei, President of USI, indicated that USI began its R&D efforts for MIDs in 2007. In order to make the MID thin and light, MID-160 uses an in-house small footprint WiMAX SiP (system in package), a dual-band WiFi/WiMAX module, and a 3G module from Option — all packaged into a device featuring a customized ultra-thin 5-inch panel display.

"The new Intel Atom processor enables the best Internet experience in pocketable mobile Internet devices," said Pankaj Kedia, director of global ecosystem programs for Intel Corporation's Ultra Mobility Group. "It was designed to help make the Internet on small devices possible and for energy efficiency. When combined with USI's system level innovation, the Intel Atom processor makes it possible to achieve smaller, yet smarter MIDs for the demanding mobile user."

Our GTM501 device – the world's smallest HSPA module – has been specifically designed to make MIDs truly pocketable. We're delighted that we're able to support USI in the development of such a compact and well-connected MID." said Jan Callewaert, CEO of Option.

According to USI, through this in-pocket, ready to service MID, users can enjoy a PC-like internet experience including browsing the Internet with Flash and the latest web technologies. MID users can also connect with families and friends and enjoy full access to rich email including attachments.

MID160 Specifications

Processor: Intel Atom Processor

Size: 5-inch touch screen

Memory: 512MB

Operating System: Ubuntu Linux

Hard Disk: 8GB SSD

Wireless: supports WiFi 802.11b/g, Bluetooth, GPS, HSDPA or WiMAX

Weight: 250g