USB 3.0 specifications released today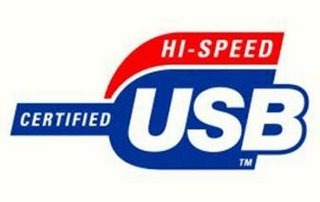 The specifications for USB 3.0 have been released [pdf link], at the first SuperSpeed USB Developer Conference held today.  Now at the 1.0 level, the release will mean that OEMs and other developers can begin creating products using the high-speed replacement to USB 2.0; USB 3.0 offers up to ten times the bandwidth of the last-gen version.
Responsibility for the new specification fell to the USB 3.0 Promoter Group, which consists of HP, Microsoft, Intel, NEC, Texas Instruments and ST-NXP Wireless.  They expect the first standalone controllers to hit the market in the second half of 2009, with consumer products arriving in 2010.  Data-rich devices, such as hard-drives and high-definition camcorders, are expected to be the first products to take advantage of the backward-compatible connection.
As well as speed, energy efficiency has also been addressed in USB 3.0.  While the connection can supply greater bus power to individual devices, reducing the need for a standalone PSU, improved power management means that overall energy use is in fact down.