US Nokia N85 unlocked on sale for $556 at Amazon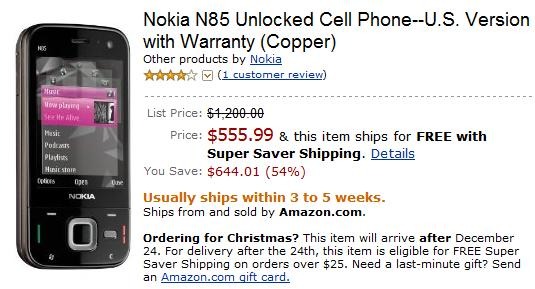 We may receive a commission on purchases made from links.
Amazon have begun to offer the Nokia N85 cellphone, unlocked for use with any US GSM carrier.  As is perhaps unsurprising, you pay through the nose for the privilege of not being tied to a two-year contract: the N85 retails for $555.99, apparently less than half its $1,2k MRSP.
The N85 has a 2.6-inch AMOLED QVGA display, HSDPA connectivity together with WiFi b/g, GPS and a 5-megapixel camera.  It runs the Symbian S60 OS and is suitable for the US spec 3G bands used by carriers T-Mobile and AT&T.
Delivery is expected "within 3 to 5 weeks", which means that you won't get the N85 as a Christmas present.  It's possible that now that Nokia have crafted the US spec version, one of the carriers might pick it up and offer it cheaper – in terms of initial sticker price, anyway – than the unlocked version.
[via OLED-info]