The government wants to cripple your phone while driving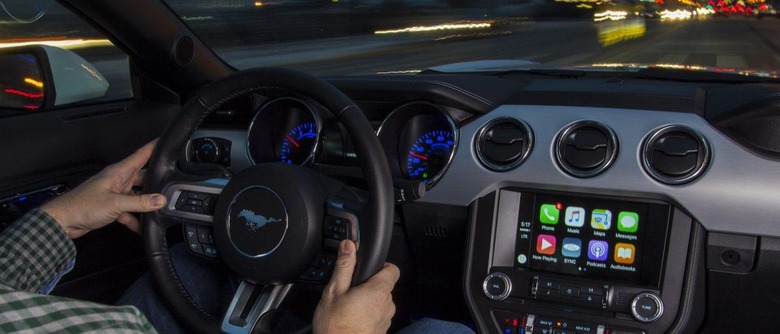 US driving safety regulators are pushing for a strict limit on what smartphone tech can be used in the car, recommending phones go into lockdown when plugged into the dashboard. The National Highway Traffic Safety Administration (NHTSA) has published its first set of guidelines on driver distraction for portable and aftermarket devices, effectively outlining its goals for cutting down on unsafe smartphone use while at the wheel. Though not a law, it's nonetheless a strict set of suggestions for how platforms like iOS and Android should behave, including limitations on apps and features that may leave drivers frustrated.
"These commonsense guidelines, grounded in the best research available, will help designers of mobile devices build products that cut down on distraction on the road," U.S. Transportation Secretary Anthony Foxx said today.
The new guidelines are the so-called Phase 2 of the NHTSA's proposals. Phase 1, announced back in 2012 and released the following year, dealt with potential distractions from pre-installed equipment in vehicles, such as touchscreen infotainment systems. It outlined suggestions such as minimizing the number of taps required to complete common tasks, limiting the initiation of phone calls while the vehicle to preset favorites rather than punching in full telephone numbers from scratch, and entering full addresses into navigation systems while the car is in motion.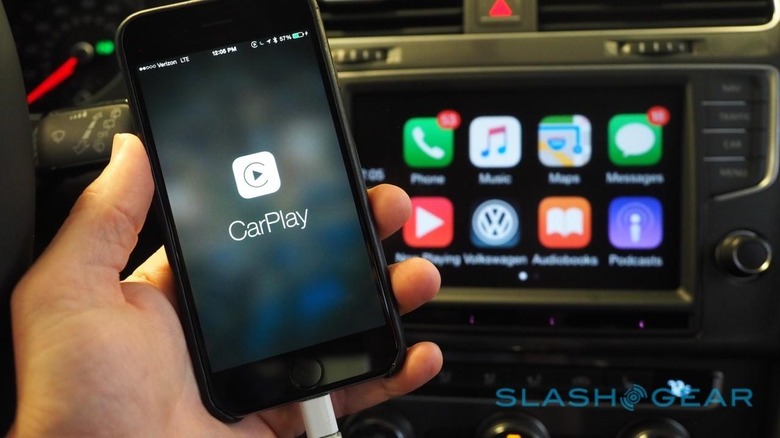 Phase 2 attempts to tackle the fast-growing area of aftermarket sources of distractions. In particular, that means people using smartphones in the car, or connecting their devices to the in-car systems and displaying interfaces like Apple's CarPlay or Google's Android Auto. "While NHTSA acknowledges that there are many available technology solutions, state laws, and consumer information campaigns designed to help reduce distracted driving," the agency writes, it nonetheless "believes that an important way to help mitigate the real-world risk posed by driver distraction from portable devices is for these devices to have limited functionality and simplified interfaces when they are used by drivers while driving."
At the core of the guidelines is the concept of pairing a smartphone or other device with the car, and allowing a customized subset of apps and functions to run which are considered safer to interact with on the move. Dubbed "Driver Mode" by the NHTSA, it would build on efforts like CarPlay and Android Auto with a selection of tasks in a more straightforward interface. Drivers would be able to see maps delivered from their smartphone, short chunks of text that are believed to be readily consumed with a single eye-glance away from the road, and a greater reliance on voice control and input.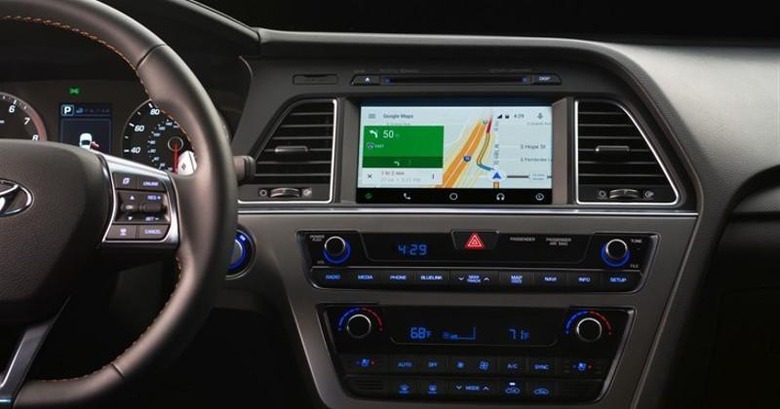 However, any compliant system would also lock out a number of features people are used to on their device. That includes showing video that doesn't relate to driving, display "certain graphical or photographic images" that are, as yet, undefined, and displaying automatically scrolling text or indeed text intended for reading from webpages or ebooks. Manual text entry – whether for messaging or internet browsing – would also be blocked, as would social media, text-based messages, and more.
That would bring third-party devices in line with what Phase 1 compliant in-car systems can and can't do. The NHTSA is pushing for devices to automatically switch into Drive Mode when connected with the car, though also recognizes that manual control over that might be preferred. It's also making allowances for more comprehensive functionality being available when someone other than the driver is using the device.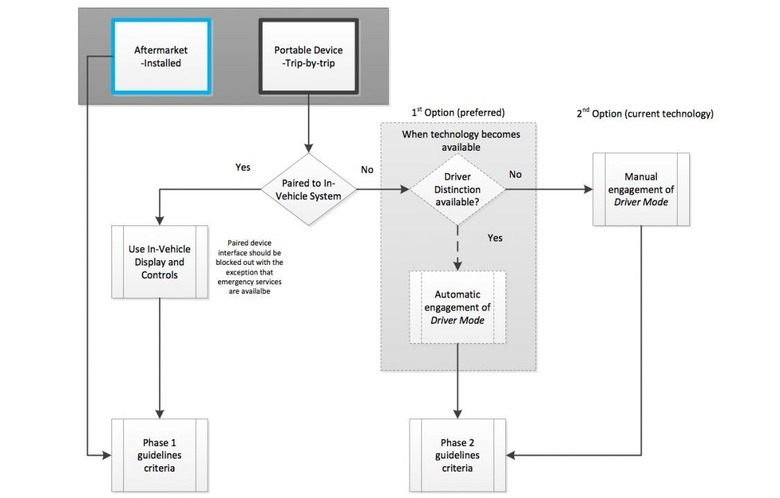 "NHTSA has learned that technologies to detect whether a driver or passenger is using a device have been developed but are currently being refined such that they can reliably detect whether the device user is the driver or a passenger and are not overly annoying and impractical," the agency says. As such, a manual switch would be permitted under the Phase 2 guidelines until such auto-recognition technology is deemed capable enough to figure out who was at the wheel and who was on the phone.
Unlike systems like CarPlay and Android Auto, however, the NHTSA takes a much harder line on whether the device itself can be used while connected to a vehicle. Whereas currently you can use your iPhone or Android smartphone while they're plugged in and projecting their interfaces, under the safety agency's guidelines that wouldn't be the case. Instead, the device would be locked and its functionality solely accessed through the compliant UI.
That may well be the stumbling block for many device and software makers, not to mention users themselves. One of the criticisms of systems such as CarPlay has been the limitation on third-party apps available for the interface: if you're a Google Maps user, for instance, not a fan of Apple Maps, you can't use Google's navigation through the CarPlay UI. The same goes for third-party music streaming services which aren't among the small handful – like Spotify – officially supported alongside Apple's own products.
NOW READ: Acura's vision for the dashboard ditches touchscreens
Without those options, the temptation is to either simply mount the phone on a dashboard bracket, or to partly use the device's Drive Mode but still use it manually for apps that don't fall under the official umbrella. A strict observance of the NHTSA's guidelines would make the latter impossible. As a result, drivers may simply opt to not plug in their phones at all, and bypass any safety enhancements in the process.
Still in the commentary stage, the guidelines are open to being shaped by car manufacturers, device makers, and indeed anybody with an opinion on the topic. After such feedback, the agency plans to test out systems to see which perform the best, though the guidelines it eventually publishes – as with those of Phase 1 – will be voluntary not mandatory.
MORE NHTSA