US Cellular Galaxy Note II already up for pre-order

Samsung's popular and impressive looking Galaxy Note II was finally announced earlier this week as coming to all major US carriers. It was good news indeed, but none of the carriers have made any formal announcements — except for US Cellular. They are planning to beat the others to the punch this time around and have already announced pricing ($299) and a late October launch. And now they're up for pre-order.
This 5.5-inch HD Super AMOLED packing phablet will be complete with US Cellular 4G LTE speeds and can be yours late next month for just $299. While that price is a little steep we haven't heard from any other US carriers to compare it to. They priced their Galaxy S III higher than the rest too — so we have a feeling Verizon and the rest will be a better offer.
Since the Galaxy Note II will be headed to the US with the same size, specs, and design as the international model you'll want to take a peek at our hands-on below for an idea of what to expect.
Yup, that 5.5-inch 1280x720p HD Super AMOLED display will look beautiful as it rocks Android 4.1 Jelly Bean and being powered by Samsung's own Exynos 1.6 GHz quad-core processor and 2GB of RAM. You'll also get 16GB of internal storage, micro-SD support, an 8 megapixel camera on the rear, and 1.9 front HD shooter for video chat and self portraits. All of that lasting all day thanks to a massive 3,100 mAh battery under the hood.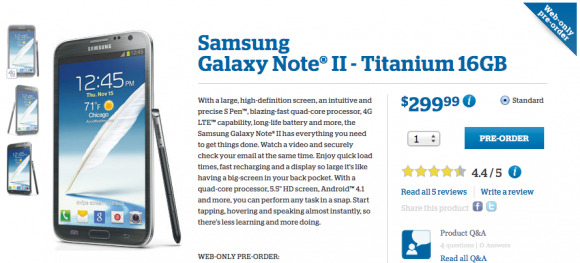 You all should know plenty about the Note II already, and if not hit our various links below. While we briefly mentioned this earlier in the week, you can pre-order the US Cellular Galaxy Note II right this minute, just click here. Will you be ordered this device from your regional carrier, or opt for something with a broader outreach like Verizon Wireless and their 4G LTE speeds?