Urban DJ mix-tape for portable cross-fading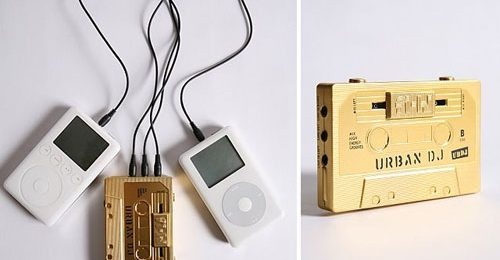 Ideal for mobile DJs and the perpetually indecisive, this gold-sprayed cassette tape hides a cross-fading secret.  Dubbed the Urban DJ, it has twin 3.5mm inputs and a single 3.5mm headphone socket, together with a mixer-style cross-fading control, and can be used to blend tracks from two different PMPs.
Of course, it relies on the fact that you're willing and able to carry two media playing devices – iPod and cellphone, perhaps? – and have an interest in interacting with the music rather than just using it as a distraction from wolf-whistling construction workers.  Power is from two AA batteries.
The Urban DJ mix-tape is available from Urban Outfitters online now, priced at $30.  Alternatively, get out your soldering kit and an old TDK and you could knock together your own.
[via GenerationMP3]