Upgrader Beware: The Surface Laptop Is A DIY Nightmare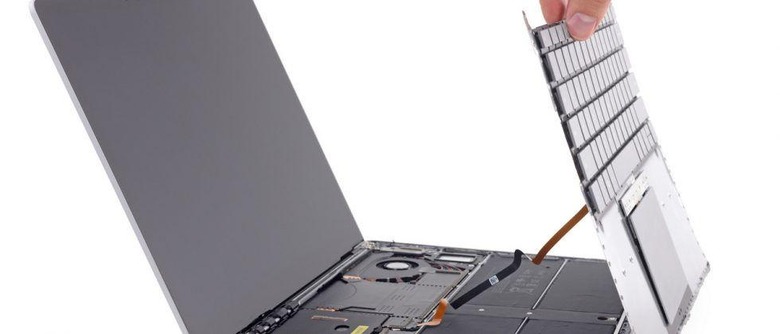 If you're tempted by Microsoft's beguilingly Alcantara-clad Surface Laptop, be warned: if you ever take it apart, don't expect it to go back together again. That's the cautionary tale shared by teardown specialists iFixit, which took various tools to the recently-released ultraportable. As you may have guessed, given the way the laptop industry is trending, the news isn't good for those who want to do their own DIY.
The culprit is a variety of glued down, spot-welded, or generally tricky to detach components and cables. iFixit was forced to peel off the Alcantara around the keyboard, pop welds, drag back tape, and more, in order to end up with a stack of constituent parts.
Microsoft's justification – just like that of Apple and other notebook manufacturers – is that consumers want slim, lightweight, and impressively minimalistic computers. That's not especially conducive to something which you can dismantle. Certainly the Surface Book isn't the only guilty party here, with the recent MacBooks getting criticized for how little internal access they support.
While you might dismiss this urge to dismantle as needless geekery, Microsoft's design does have implications for how long your notebook will last. If you want to upgrade the Surface Laptop's storage, or its memory, or processor, you need to do that at the point of ordering. Due to the construction, there's absolutely no possibility of opening it up later and neatly switching out components for an upgrade.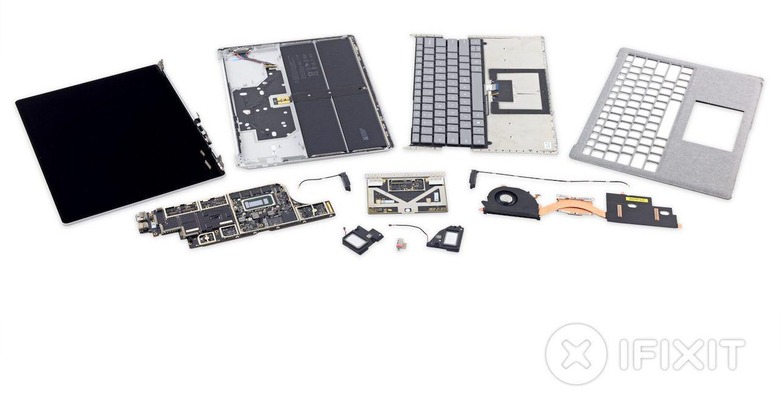 iFixit's judgement is suitably, and unexpectedly harsh. "The Surface Laptop is not a laptop," the company concludes. "It's a glue-filled monstrosity. There is nothing about it that is upgradable or long-lasting, and it literally can't be opened without destroying it."
Of course, there's an alternative to internal upgrades. As external peripherals get faster and more capable, and interconnect technologies start to rival the performance of an internal bus, a post-purchase supercharge doesn't necessarily have to involve screwdrivers. Unfortunately, Microsoft hasn't really played ball there, either.
Unlike, say, the MacBook Pro with Touch Bar, or numerous Windows laptops, the Surface Laptop doesn't have any Thunderbolt 3 support. Without that USB-C port, there's no chance of plugging in the gradually increasing number of peripherals like external GPUs. Something else to bear in mind when you're picking your new notebook.