Upcoming Averatec 10-inch netbook may use Android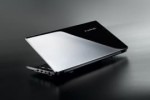 Averatec are developing a new netbook that is "a merger of cellphone and PC technology", prompting speculation that the company will use Android as the budget ultraportable's OS.  Company CEO Tae-Hyun "Tiger" Cho has described the OS as "a surprise" and would neither confirm nor deny the Android rumors; the Averatec netbook will reach the market in August or September 2009.
Averatec have already made one foray into the netbook market, with 2008's Averatec Buddy.  Rather than an in-house design, however, the Buddy was a rebadged MSI Wind, priced initially at $449.  Their new machine will be fully of their own creation, meanwhile, and Cho believes that – plus the OS – will put Averatec ahead of the game.
Unlike many rivals, who are trying to satisfy every niche, Averatec is looking to build a portfolio with just three main segments: 10-inch netbooks, 12-inch laptops and all-in-one PCs.  Most recently, the company unveiled the N2700, a 12.1-inch laptop, while last month they took the wraps off of two all-in-ones, a nettop-style machine and a desktop CPU model.