Unreal Tournament UE14 gameplay: big things, small beginnings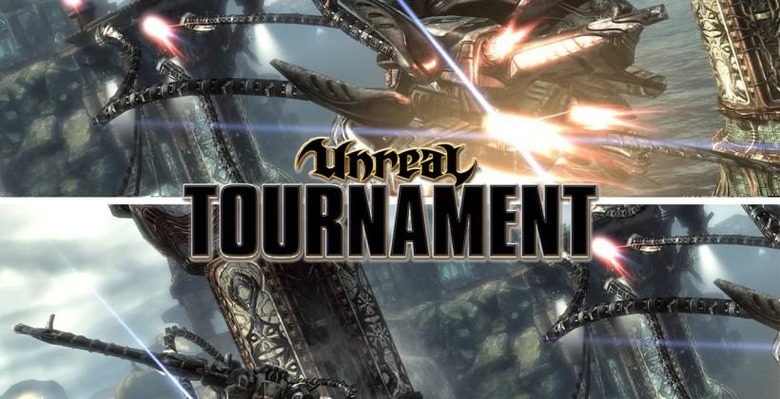 The very first Unreal Tournament gameplay demonstration has been released today with super tiny screens. This game's 2014 edition had development begin on May 8th, 2014, and here less than a month later we've got an Alpha build ready to roll.
This game is being developed by the Unreal Tournament team at Epic Games to bring about an understanding between themselves and the public about Unreal Engine 4. With this engine, developers are given a toolset that's extensive and diverse, made for games on everything from a tiny smartphone to the highest-end PC. Unreal Tournament will be a demonstration of this engine's abilities.
What you're seeing above is the first glimpse of gameplay of the newest Unreal Tournament to be shown to the public. This is the development team at Epic Games – you'll see David Spalinski, Unreal Tournament Lead Level Designer; Stacey "Flak" Conley, Unreal Tournament Community Manager; and Steve Polge, Unreal Tournament Senior Programmer / Project Lead lurking about.
Nick Donaldson, Senior Designer; Matt Oelfke, Gameplay Programmer; and Joe Wilcox, Gameplay Programmer are all in attendance as well.
Now compare this to our own footage of the fan-made Open Tournament in development since before Unreal Tournament 2014 was revealed.
Look similar to you?
"We'll be getting the game out to everybody really soon," said Flak, "and we're really excited."
UPDATE: have a peek at the Epic Games "The Future of Unreal Tournament" video shared recently as well. This is similar information to what was shared earlier this month, made here into a simple compilation.
VIA: NeoGAF – special thanks to Boinx for the title