Unplugged Performance adds the va-va-vroom to Tesla Model 3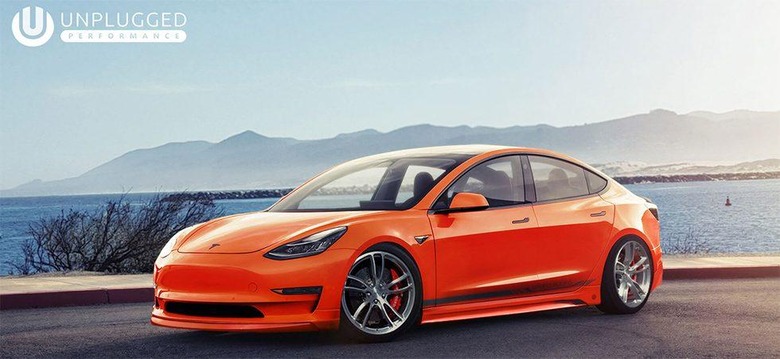 If you want a Tesla Model 3, but don't want to wait until the performance version lands in mid-2018, there is an option. A company called Unplugged Performance will take your basic Model 3 EV and turn it into a dead sexy beast if you want. Unplugged Performance says it will deliver complete vehicles and it will offer many exterior, interior, suspension, and brake updates for the car.
The images you see of the orange EV are renderings of the car wearing Unplugged's aftermarket body kit and ultra-light wheels. With weight being the enemy of driving range with an EV, we wonder if the ultra-light wheels will offset an added weight from mods like the body kit. The complete car program will have aero enhancements, ultra-light wheels, and ceramic brake upgrades.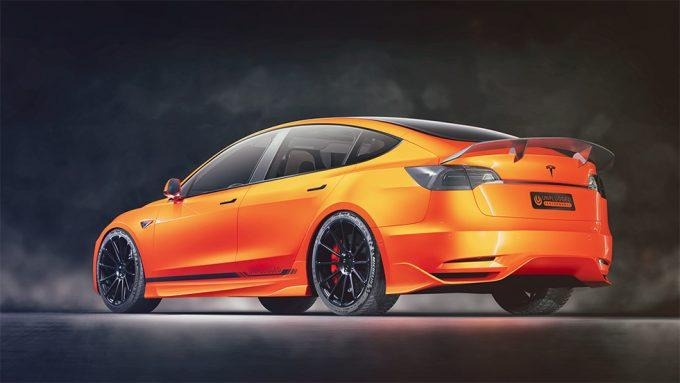 The program will build cars in an "artisan" fashion says Unplugged and will seemingly be called the Unplugged Performance Model 3. The highest performance version of the car will be the Model 3 P and the company promises every vehicle it makes will be one of a kind. Buyers will get to choose materials, colors, stitching detail, body design specifications, wheel designs and performance attributes.
One key bit of detail that is unannounced is just how much these additions will cost. A ceramic brake kit alone could add thousands and thousand of dollars to your tab. It's also not clear exactly what sort of performance enhancements the company will offer.
While we have questions about details of Unplugged Performance's Model 3, things are still unclear about the future Tesla performance version of the car. We have no idea how much the price might increase for what is expected to be a dual-motor Model 3. We know already that the big 100 kWh battery won't fit in the smaller car. We can hope for a Tesla Model 3 P90D with AWD and blazing Ludicrous Speed performance, but we might not get it.
SOURCE: Teslarati