Unimpressed by Uncarrier, T-Mobile fans force data backtrack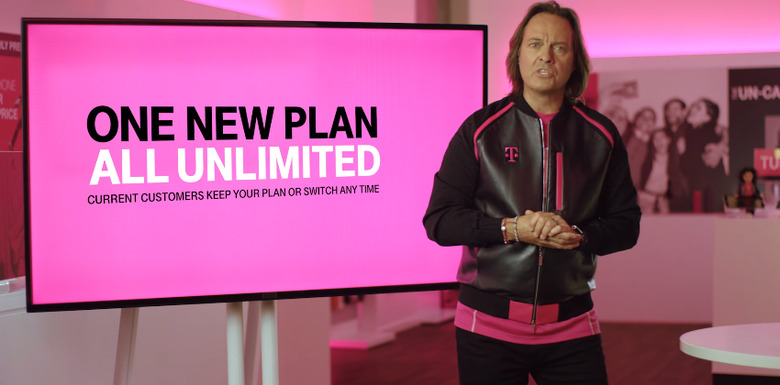 Just recently, T-Mobile announced its new ONE plan, which claimed to give unlimited data to all of its postpaid subscribers through one plan. Of course, there were some problems with this plan, in that it downgraded video streams to 480p, requiring those who wanted to stream in higher resolutions to shell out an extra $25 per line. That apparently didn't sit well with some T-Mobile customers, and prompted by that feedback, T-Mobile has announced some add-ons that might bring more value to that $25 monthly charge.
Yes, the Uncarrier has decided to sweeten the pot a bit. With what it's calling the ONE Plus plan, that $25 charge isn't going away, but it will now also get you unlimited 4G LTE tethering. At first, customers on the standard ONE plan were only going to get unlimited 2G tethering, but T-Mobile also announced today that it will bump those speeds up to 3G. Fianlly, T-Mobile says that customers on the ONE Plus plan will experience twice the data speeds in its 140 Simple Global countries, allowing for faster international data roaming.
The ONE Plus plan still comes with unlimited HD video, but those extra perks may make the additional cost worth it for some. For those keeping track, that puts the monthly cost of the ONE Plus plan at $95 for a single line, assuming you want to stream video beyond 480p and don't want to be limited in your tethering.
That isn't bad when compared to the other carriers, but it also means that T-Mobile's basic ONE plan isn't truly unlimited like the company would have you believe. It should also be noted that those who don't want to spend an extra $25 per month but still want HD video from time to time will be able to purchase HD day passes at $3 per 24 hours.
T-Mobile is also moving the launch date of the ONE plan up a few days, now launching it on September 1 instead of September 6. Existing customers won't be forced to move to the ONE plan if they don't want to, though it seems that all new postpaid customers won't have much of a choice in the matter. T-Mobile says that the ONE plan will be available for prepaid customers at some point in the future, but still hasn't specified a launch date for that side of its business.