T-Mobile One unlimited data plan announced, but there's a big catch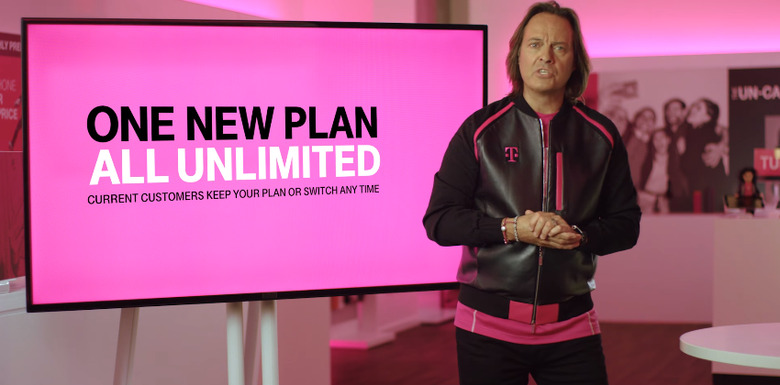 T-Mobile has announced Un-Carrier 12, and it's a big one. The company is revamping its plans, getting rid of data caps and offering one new unlimited plan for everyone, appropriately named T-Mobile One. The new One plan, which offers up unlimited talk, text, and unlimited 4G LTE data for everyone on the service, will become available for post-paid subscribers on September 6, while T-Mobile CEO John Legere say the One plan will go live for pre-paid subscribers a short time after.
Pricing for T-Mobile One ultimately depends on how many lines you have. The first line on the One plan will cost $70 a month, the second adds $50, and then all the rest add $20 each. That's assuming you have 8 or fewer lines on your plan – for the ninth line and beyond, pricing goes back up to $30. That pricing also requires you sign up for autopay, otherwise T-Mobile will charge you an extra $5 per line. Tablets can be added to the One plan for $20 a month as well, while any wearables you have can get unlimited 2G data for $5 a month.
However, here's where the caveats come in. Where video streaming is concerned, your T-Mobile One plan will only offer standard definition 480p streams by default, something that's very disappointing to hear considering video streaming is one of the biggest culprits of data consumption, thus making unlimited data more attractive in the first place. If you want to stream in HD, you'll have to shell out another $25 per line, which for a single line brings the T-Mobile One plan to the same price as T-Mobile's current unlimited plan.
T-Mobile One also features unlimited 2G hotspot, but the old plan featured 14GB of tethering. If you want to use your hotspot at 4G speeds on the One plan, you'll have to pay an additional $15 for every 5GB you use. That bumps the price of T-Mobile One plan up to more than the current unlimited plan, so if you're a person who prefers to stream video in HD and makes use of those tethering features, you may want to consider holding onto the plan you already.
The good news is that T-Mobile will let you do just that, as it won't be automatically migrating existing subscribers to the T-Mobile One plan when it launches next month. Will you be sticking with what you currently have, or are you going to be jumping over to the T-Mobile One plan?