Under Armour rolls out limited edition 3D-printed sneakers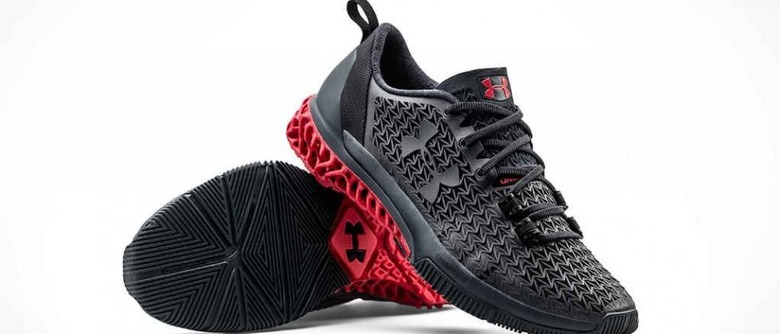 Sport apparel maker Under Armour isn't the first to incorporate 3D-printing into their shoes, but they are the latest. The company has unveiled a limited edition training shoe called UA Architechs, which feature a 3D-printed midsole. The shoes don't have the personalization element like Adidas' Futurecraft 3D concept does, but they do take a similar path as New Balance's version, using advanced materials in the midsole to improve the overall strength and elasticity.
Under Armour used 3D-printing to produce the shoes' lattice heel. The interlacing structure creates what they call a "dynamic stability platform," or, basically, the ability to better support the wearer. But in addition to stability, it offers the benefits of energy return that is often found in shoes with foam heels. Because of this combination, the UA Architechs are just as suitable for weight lifting as for cross training.
While these are yet another pair of shoes to use 3D-printing in their production, it seems the technology is still far from making its way into mass footwear. Adidas' Futurecraft 3D remains a concept, and their follow-up, the Futurecraft Leather — entirely made from a single piece of material — was limited to only 45 pairs globally, and Under Armour is keeping the UA Architechs difficult to get your feet into, releasing only just 96 pairs at a price of $300 each.
But the reason for the limited availability isn't because Under Armour is trying to drive up demand, or intentionally release a scarce product, it's because each pair's midsole is printed by a small team at the company's lab in Baltimore. So if you do snag a pair, just remember, you're walking on futuristic tech that is the result of two years of research and development.
SOURCE Kicks on Fire