UMID MID: WiBro, WiMAX, HSDPA, WiFi & a 4.8-inch touchscreen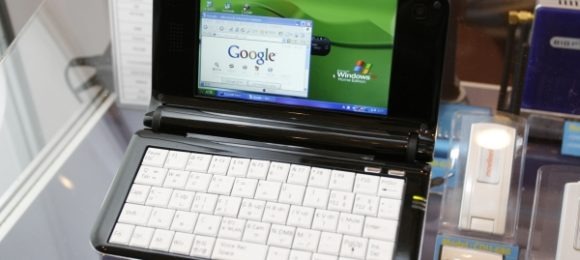 UMID have been showing off their new MID (Mobile Internet Device) at the Global Mobile Vision expo, a compact clamshell with a 4.8-inch 1024 x 600 touchscreen and full QWERTY keyboard.  Expected to launch in Korea in 2009, the MID is packed to the rafters with wireless connectivity options: WiBro, WiMAX, HSDPA, WiFi and Bluetooth.  Grunt is courtesy of an Intel Atom 1.1GHz or 1.3GHz processor paired up with 512MB or 1GB of RAM.
Other specs include DMB-T and DVB-T digital TV tuners (which covers both the common Korean and European standards), a range of SSD storage from 8GB to 32GB, and a 1.3-megapixel camera.  The MID also has a microSD slot, USIM card slot (for Korean use) and a single mini-USB 2.0 port.
Windows XP and Vista, together with Linux, are all supported, though it's unclear which OS UMID will pick for the launch next year.  Still, the amount of technology packed into a 315g package is the real killer here; they've been particularly clever with the chromed side-strips that help disguise the MID's thickness.  No word on price, specific release date nor availability outside of Korea.
[via jkkmobile]