UMID Mbook SE Boosts BZ MID's Atom CPU And Doubles RAM

UMID has outed a special edition of their BZ ultraportable, the UMID mbook SE, boosting the CPU from the original 1.2GHZ Atom Z515 to a 1.6GHz Atom Z530, paired with 1GB of RAM and WiFi b/g/n.  Retained is the 32GB SSD, 4.8-inch 1024 x 600 resistive touchscreen and full QWERTY keyboard.  The new model is already up for sale through at least one Korean retailer, priced at 698,000 SKW ($580).
There's also a slightly larger battery, 2,800mAh rather than 2,600mAh on the BZ, though no runtime estimates as yet; with the slower CPU and the smaller battery, the BZ managed over five hours of WiFi browsing on a single charge.  OS is still Windows XP, but UMID do provide all the touchscreen drivers necessary to get it up and running with Windows 7.  Imports of the original currently sit at around $499, but there's no word on whether this updated version will make it outside of Korea anytime soon.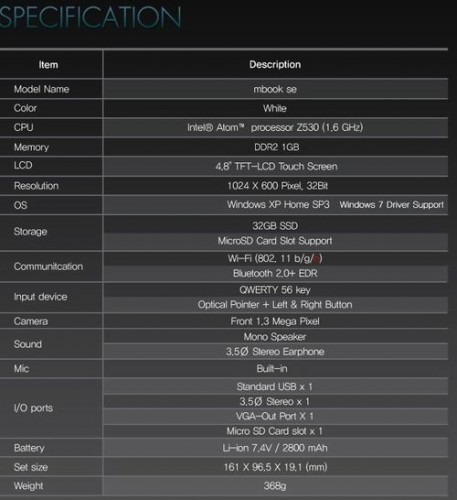 [via Pocketables]