UMID M1 gets 3G-free $924 pre-order price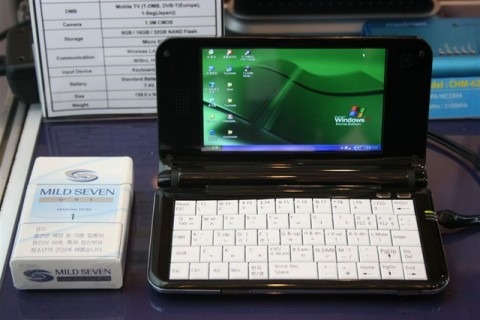 We didn't get a chance to catch up with UMID at CES this year, but their connectivity-heavy M1 MID made an appearance and was promised for a June release in the US.  Price, though, hadn't been decided, but was expected to be "not too expensive"; either the people at UMID aren't familiar with what constitutes expensive, or Australian buyers are being swindled.  The UMID M1 mobile internet device has gone up for pre-order at Justek, an Australia-based reseller, for a whopping AU$1399 ($924), with stock expected by February 27th.
That $924 doesn't even get you all the connectivity goodies, either.  3G is listed as "optional", as is the digital TV receiver, leaving just WiFi b/g and Bluetooth 2.0 as standard.  No mention at all of the WiMAX and WiBro the M1 first flaunted, though admittedly they wouldn't be much use in areas without the coverage, but then surely the price should come down to reflect that?
What you do get is an Intel Atom 1.3GHz Silverthorne CPU (also listed at 1,100MHz in the spec breakdown), 512MB of RAM, a 16GB SSD (listed at 8000MB in the breakdown) and Windows XP Home.  Both a QWERTY keyboard and 4.8-inch touchscreen are there, with a 1.3-megapixel webcam and 17Wh battery.  Frankly, given the price, the incongruities in spec listing and the fact that they're using Pocketables' images rather than their own, we'd avoid this particular pre-order deal.