Ultra X4 Modular Power Supply: up to 1600W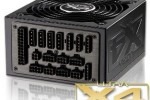 Ultra Products' latest power supply has arrived, and as you'd expect from a PSU priced upwards of $99.99 it offers a few neat tricks for the money.  The Ultra X4 Modular Power Supply uses an array of ports rather than fixed cables, meaning system builders can use just which cords they choose rather than having to route unwanted connectors out of the way.  The PSU is also 80 Plus Certified, meaning less energy waste and reduced heat output.  It should be quieter, too, thanks to a sizeable 135mm fan and a silicone chassis bracket for reducing vibrations.
Ultra also throw in a fair few thumbscrews, zip ties and velcro strips to make tidying up those cables you actually do choose easier; meanwhile system safety is courtesy of short circuit protection, in-rush current protection and thermal overload cutoff protection.
Seven versions of the Ultra X4 are on offer, ranging from 500W through to 1600W.  The 850W, 1080W and 1200W are all available now, priced at $249.99, $279.99 and $299.99 respectively, while the 500W, 600W and 700W versions will follow later in October at $99.99, $119.99 and $149.99 respectively.  Finally, the top-end 1600W Ultra X4 will arrive late in Q4 2009, priced at a hefty $399.99.