Ultimate Ears HYPERBOOM cranks the bass in a clever Bluetooth speaker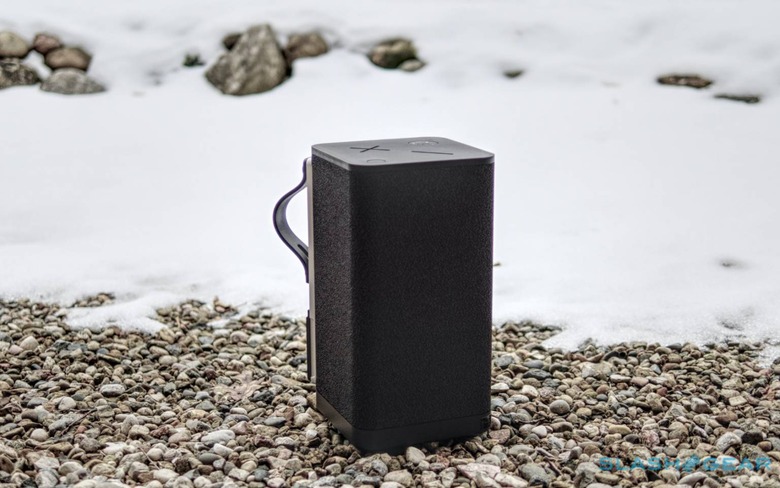 Ultimate Ears is adding to its portable rugged Bluetooth speaker line, and the new UE HYPERBOOM is as big as it promises to be loud. Resembling what the apes from 2001: A Space Odyssey might come up with were they tasked with designing a speaker, it's an ominous black monolith that's topped with some unexpectedly simple controls.
The goal, UE says, was to make a speaker that was entirely party-proof. That doesn't just mean splash-resistant, though the HYPERBOOM is indeed IPX4 rated and can handle pool mishaps and spilled drinks. It also means standing up to impromptu DJs.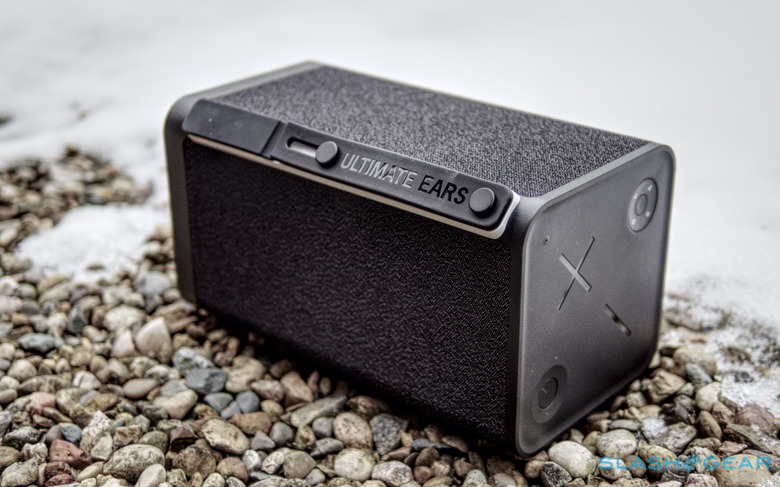 There's support for four different inputs: two Bluetooth, one 3.5mm aux-in for kicking it old-school with a cable, and one optical audio that's more console-friendly. A circular pad of buttons on the flat top switches between them. Huge plus and minus buttons are in fact a capacitive volume slider.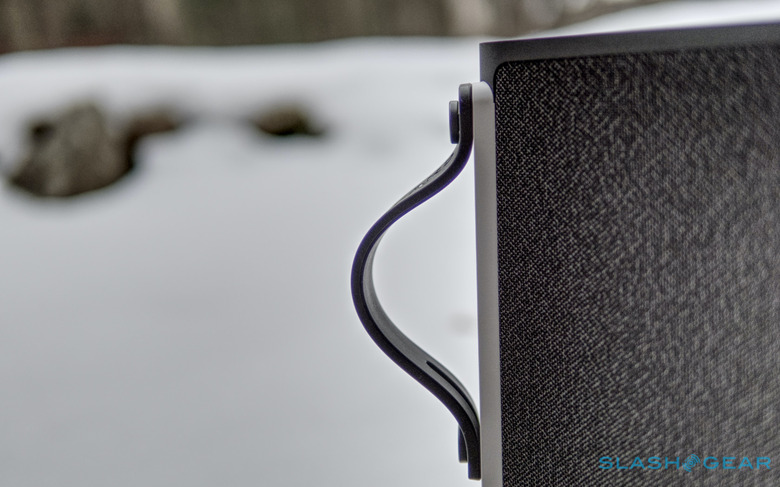 What's really clever, though, is how the four inputs are managed, and particularly the pair of Bluetooth connections. Ultimate Ears wanted a system which wouldn't interrupt playback by a second source until it was absolutely ready to go. That way, you wouldn't have a gap in your music if someone else wanted to play a song.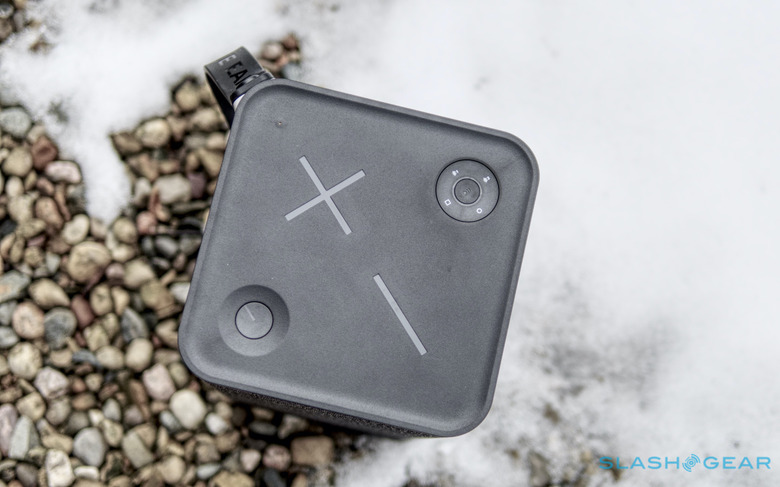 Press and hold one of the Bluetooth buttons – you'll know which source is active, because an LED lights up alongside it – and the HYPERBOOM goes into pairing mode. However there's no audio prompt, and the speaker doesn't instantly switch to that input. Instead you can complete the pairing on your phone, laptop, or other source, and then only when you hit play will the HYPERBOOM flip over.
The idea is that you can use it without having to install an app, though there's UE's BOOM app if you want to set up favorite playlists – accessed with a tap of the multifunction button – remotely control the speaker's power, adjust volume, and connect the HYPERBOOM with other UE speakers with PartyUp.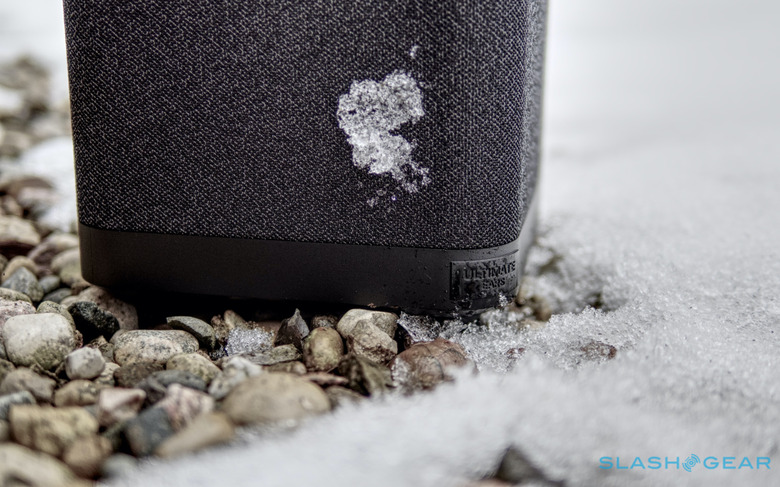 As for sound, UE is promising 100 dB of volume. There are a pair of 4.5-inch custom woofers – offset, with one positioned high and the other low – and two 1-inch dome tweeters mounted centrally on the same plane. The back is taken up by two passive radiators each, UE says, bigger than its BOOM portable speaker. [Updated to correct they're bigger than the BOOM, not the MEGABOOM]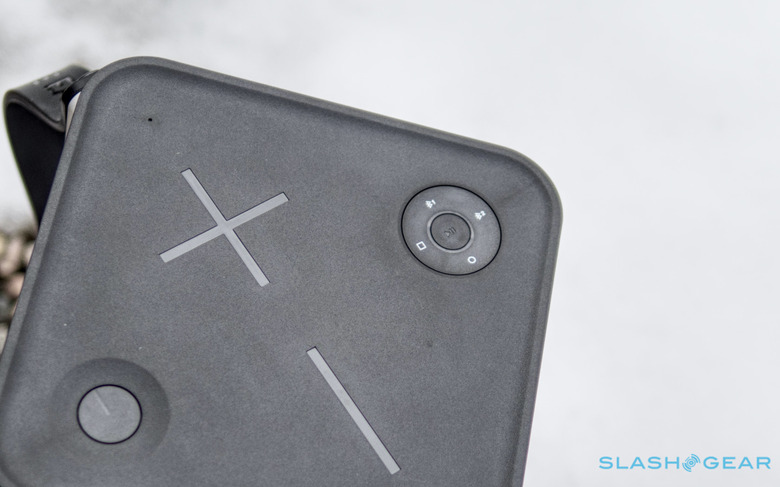 Considering that could all overwhelm a smaller room, there's a tiny microphone on the top which UE uses for a new Adaptive EQ feature. That continuously adjusts the sound profile based on the reflections in the room itself. You can turn it off if you prefer from the app, or tweak the 5-band EQ manually. What the microphone doesn't do, however, is hands-free calling, with UE opting not to make the HYPERBOOM a speakerphone.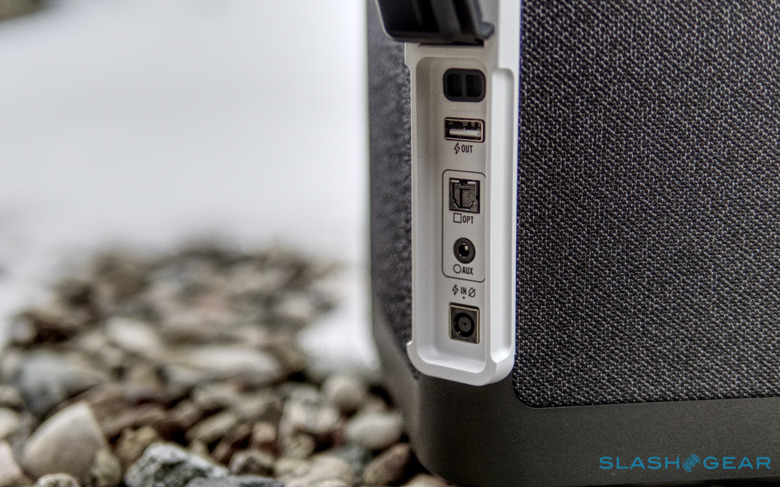 A rubber handle is on the back edge – making it a little easier to tote the 13 pound, 14-inch tall block – along with the inputs behind a flap. As well as the power input, 3.5mm aux-in, and optical input, there's a USB-A port for charging up an external device. Battery life is rated at up to 24 hours, though that's at roughly half volume. Crank it up to the max, and you're looking at more like three hours. A full charge takes roughly 2.6 hours; as with other UE speakers, pressing both the volume buttons simultaneously makes the HYPERBOOM speak its current power level.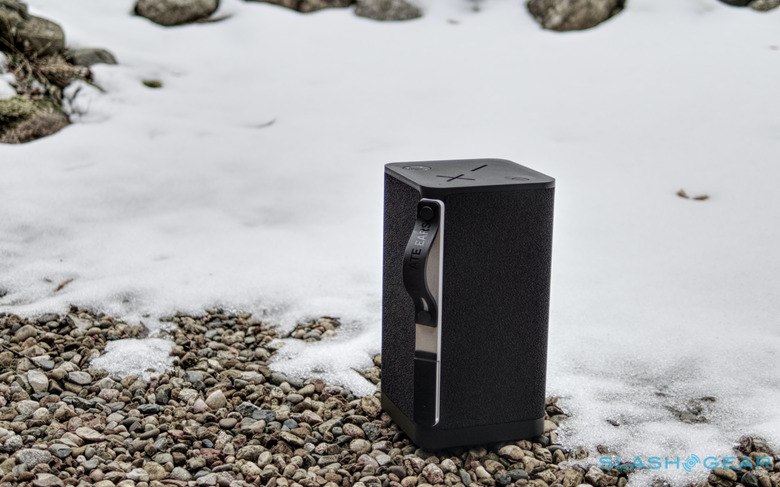 As the biggest, loudest model in the BOOM series, you'll be unsurprised to hear that the HYPERBOOM is also the most expensive. It'll be priced at $399.99 when it goes up for sale on March 2.