UK gets Toshiba's HD DVD player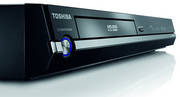 We poor sods over in the UK get a pretty raw deal with technology – late releases and over-inflated prices.  Finally, now, early adopters have the chance to get their sticky paws on Toshiba's HD DVD players, with not one but two exciting options.
The low-end is catered for with the HD-E1, coming in at £400 and bringing 720p and 1080i high definition, Dolby TrueHD, Dolby Digital Plus and DTS-HD to the table or ottoman.  If you can afford £200 more then you might be tempted by the HD-XE1, which uprates things to full 1080p definition and a HDMI 1.3 interface rather than the older 1.2 version its cheaper brother makes do with.
Format wars continue; at least now people in the UK can join in the arguments.
IFA 2006: Toshiba HD DVD Hitting Europe – at long last [Gizmodo]