UE Block Party update turns Boom speakers social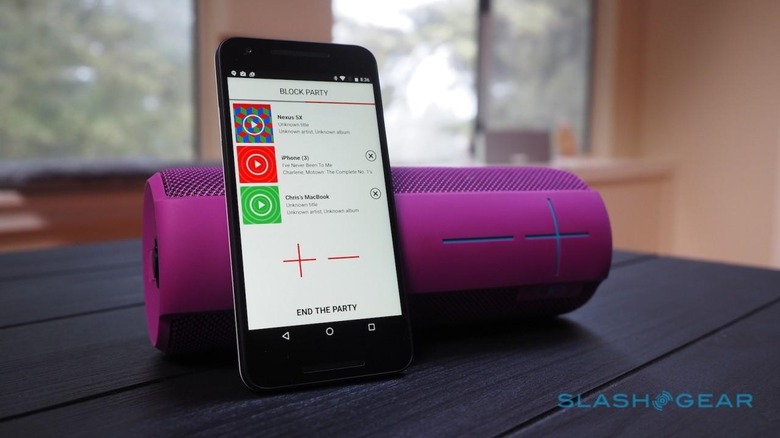 Portable Bluetooth speakers may already be social ways to enjoy music, but an Ultimate Ears update now gives those impromptu groups a way to get involved in the playlist. Block Party, a new addition to the UE app for iOS and Android, opens the company's wireless speakers up to multiple streaming sources, meaning that no longer can one person force 80s power ballads onto everybody else.
Swiping left in the app brings up a new page in which other peoples' devices can be invited to join. The initial phone is the host DJ – and, if the Taylor Swift repeats get too much, they can disconnect a guest DJ – and up to three people can be linked at any one time.
That cap, Rory Dooley, general manager of Ultimate Ears explained to me, is down to latency and performance. Indeed, beginning playback through a second device to the speaker – the Megaboom, Boom 2, and UE Roll will be supported with an OTA firmware update, though not the original Boom at this point – takes place almost instantaneously, once the Bluetooth pairing process has been done.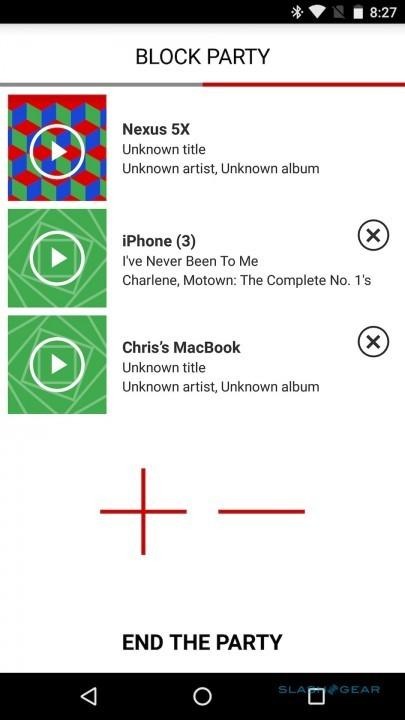 From that point, the guest device can hit play in any music app and take over the speaker with their choice of music. Within the Block Party page in the app, the host DJ can control playback from other phones and tablets, but each guest doesn't actually need the UE software.
Instead, they pair via Bluetooth to the speaker itself, which means that while Ultimate Ears might have apps for iOS and Android, those with Windows Phones or pretty much any other device with A2DP support should be able to link up and get involved.
Dooley tells me the company hasn't gone through the full quality assurance process for laptops, but I was able to add my MacBook to the group though track information didn't show up in the app.
If the host DJ goes out of range, the guest devices will stay connected and playing for up to five minutes, though they'll then disconnect if the host hasn't returned. On a couple of occasions the UE app itself crashed on the Nexus 5X I was using to test it, but when I reopened and swiped to the left, the Block Party session was still running.
While it may be billed as a social music experience, Block Party could also be useful if you have more devices than friends. A single speaker could be shared by your phone and tablet, for instance, without having to switch between the connections.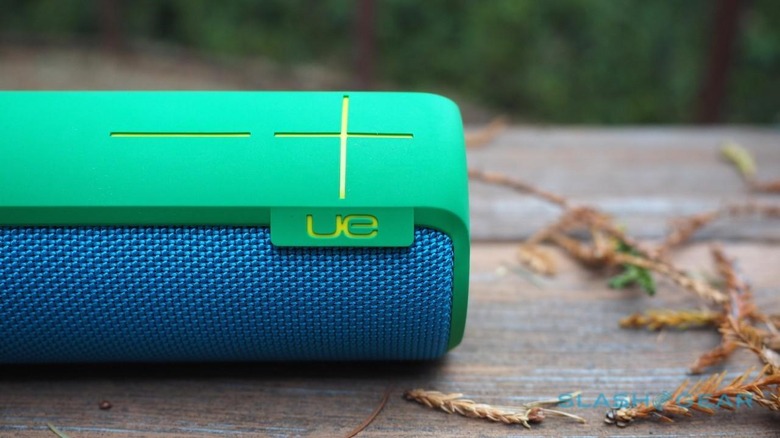 It's early days for Block Party, and there are a few improvements I'd like to see. Right now you get track ID for what's playing on the guest device in the UE app, but there's no log of who played what. That means, if you're introduced to a new artist or song by a friend playing it for you, you'll need to manually make a note of it.
Similarly, there's no way to create a shared playlist across multiple devices: as soon as one person hits play, they take over the stream.
Still, it's a useful improvement – as is the gesture control for playback that's being added to Megaboom after its successful introduction on the Boom 2 last month – and free updates to existing products aren't to be sniffed at. Block Party will be pushed out from today as an OTA update.