Uber Visa Card offers Millennial-friendly perks to lock in riders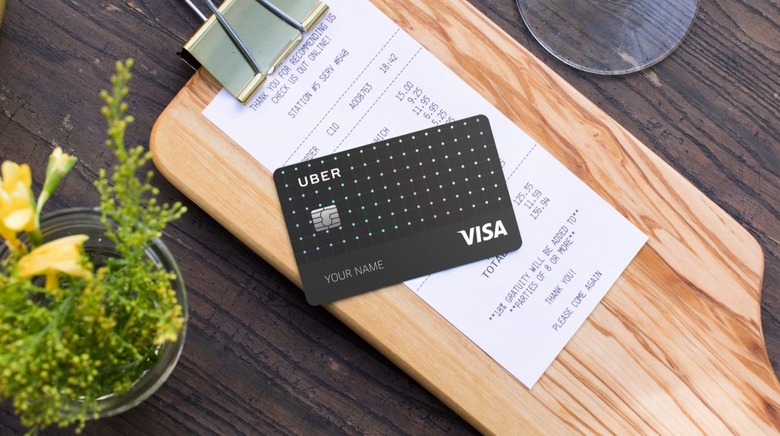 Uber is wading into the credit card business, launching its own Uber Visa Card which promises to specifically reward users of its various services. The card, which the company says was "designed specifically with our riders in mind," will charge no annual fee, but include up to 4-percent back on select purchases. It's part of Uber's push to make its services more sticky among users.
Exactly how much shoppers can expect to get back depends on what they're buying. The largest return is on dining, with 4-percent back on restaurants, takeout, and bars. That also includes UberEATS orders, where the company delivers food from nearby restaurants.
Airfare, hotels, and vacation home rentals qualify for 3-percent back, while online purchases get 2-percent back. That includes Uber, online shopping, and video and music streaming services. Finally, there's a 1-percent back bracket for everything else.
It's important to note that, according to the small print, if you register your Uber card with another payment service you probably won't qualify for the 2-percent back. For instance, if you use Apple Pay, Android Pay, Samsung Pay, PayPal, or Venmo, you won't be eligible: instead you'll get 1-percent back.
While other credit cards offer similar deals for shopping, Uber is hoping to distinguish the Uber Visa Card with some Millennial-friendly perks. For instance, there's a $50 annual subscription services credit which can go to cover Spotify, Apple Music, or other such products. Still, you have to spend $5k or more each year in order to qualify for it.
If you opt to pay your cellphone bill via the card, Uber will cover up to $600 in phone damage or theft each year. There are no foreign transaction fees outside of the US, and card-holders will be able to redeem their points for Uber credits, gift cards, or cash. While points don't expire, Uber isn't allowing them to be transferred or gifted to others. It'll be converting them at a rate of 500 points for $5 off a ride, with a maximum of $500 in redemptions each day. Alternatively, you can redeem up to the same amount in a direct bank deposit.
Potentially the most appealing – and the most nebulous – perk, though, is the promise of "exclusive access" if you use the card. Uber says that customers will periodically get "invites to exclusive events and offers in select US cities," including New York, San Francisco, Los Angeles, Chicago, and D.C., with possibilities including "secret shows and dining experiences."
As always with a credit card like this, it's worth spending the time to do some math on what, exactly, you'll get in return for your custom. Although Uber's offers are focused on its own services, with some overlap elsewhere, other cards may well give similar results. It's also important to remember Uber's APR, which the company says will vary from between 15.99-percent and 24.74-percent depending on how card issuing partner Barclays decides your credit holds up. If you're interested, sign-ups begin on November 2.
MORE Uber