Uber self-driving car fleet benched after pedestrian death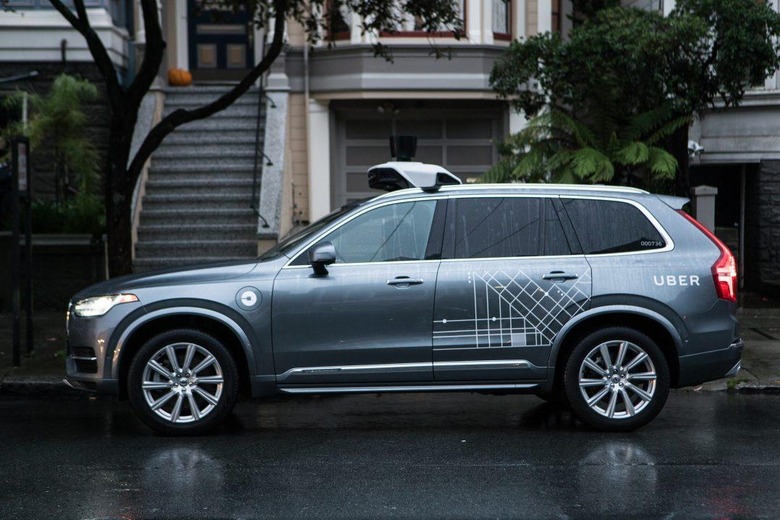 Uber has grounded its entire self-driving car fleet in the US and Canada, after one of its autonomous vehicles reportedly killed a pedestrian in Arizona overnight. The vehicle is said to have been driving itself when the incident took place, though with a safety operator at the wheel.
The crash took place in Tempe, a city in south central Arizona, east of Phoenix, early on Monday morning according to ABC15's report. A female pedestrian is said to have been walking outside of a crosswalk whereupon she was struck by the Uber vehicle. She was taken to hospital, but subsequently died of her injuries.
Uber confirmed to TechCrunch that it has now ceased all ongoing trials of its autonomous vehicles as the investigation begins. That includes not only its cars in Arizona, but other fleets that have been operating in San Francisco, Pittsburgh, and Toronto. "Some incredibly sad news out of Arizona," Dara Khosrowshahi, Uber's CEO, tweeted this morning. "We're thinking of the victim's family as we work with local law enforcement to understand what happened."
At this stage, it's unclear whether technical issues caused the fatal crash, or if a human driver could have avoided it had they been responsible for the controls. No other passengers were in the vehicle at the time. Uber said in a statement that it was "fully cooperating" with the police in Tempe and other local authorities as the accident is investigated.
Our hearts go out to the victim's family. We're fully cooperating with @TempePolice and local authorities as they investigate this incident.

— Uber Comms (@Uber_Comms) March 19, 2018
It's not the first crash for an Uber vehicle in Arizona. Back in March 2017, one of the company's self-driving Volvo SUVs ended up on its side after a collision in Tempe. However, there were no injuries reported; indeed, this looks to be one of the first incidents of a human fatality from a crash that involves an autonomous cars.
Arizona has been encouraging autonomous car testing among manufacturers and researchers in recent years, with looser regulations than other states. As a result, Uber isn't the only company with self-driving cars on the road there. Alphabet owned Waymo, a spin-off from Google's driverless research, recently began a pilot program offering members of the public rides in its autonomous minivans which, while they still have a steering wheel and other controls, do away with a safety driver altogether.
Update: Tempe police have issued a statement regarding the incident:
"The vehicle involved is one of Uber's self-driving vehicles. It was in autonomous mode at the time of the collision, with a vehicle operator behind the wheel. The vehicle was traveling northbound just south of Curry Rd. when a female walking outside of the crosswalk crossed the road from west to east when she was struck by the Uber vehicle. She was transported to a local area hospital where she passed away from her injuries. Her next of kin has not been notified yet so her name is not being released at this time. Uber is assistant and this is still an active investigation."
The National Transportation Safety Board (NTSB) has confirmed that it will be opening an investigation into the incident. Part of that process will include a team of investigators being dispatched to Tempe. Last year, the organization found that a Tesla operator who was killed when his car crashed while in Autopilot mode had ignored repeated warnings from the system, which is sold as a driver-assistance technology rather than a self-driving option.