Uber engineer told to comply with Waymo lawsuit or risk being fired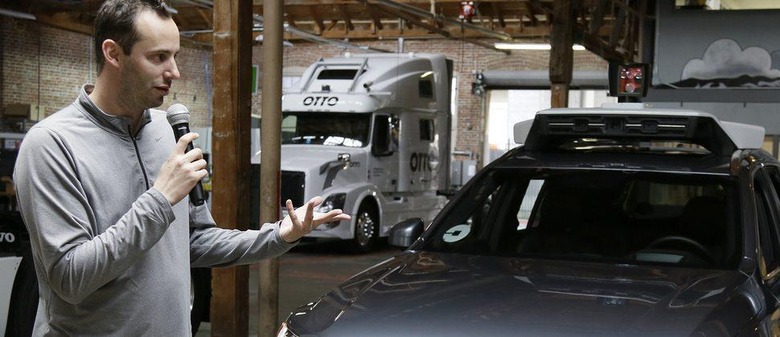 As the ongoing trade secrets lawsuit between Google's Waymo and Uber continues to heat up, the ride-sharing company has threatened to fire one of its top engineers if he doesn't cooperate with court orders. Anthony Levandowski is currently an employee on Uber's self-driving car efforts, but before that he was a technology lead at Waymo, similarly developing autonomous vehicle tech. Now he's at the center of the lawsuit and is being accused of stealing confidential information and taking it with him to Uber.
At Waymo, Levandowski helped design the company's lidar technology, which allows cars to drive autonomously through the use of lasers. Then in early 2016 he abruptly left the company to create the self-driving truck startup Otto, which was subsequently acquired by Uber in August for $680 million. The engineer is now accused of taking tens of thousands of confidential files with him when he quit Waymo.
Now Waymo is suing Uber for the theft of trade secrets and patent infringement on the self-driving technology. However, Levandowski has continually refused to cooperate with court investigations, and invoking his Fifth Amendment rights whenever questioned by Waymo's lawyers. The case has been handed over to the US Attorney's Office and there's a strong chance he'll face criminal charges if he owns up to taking the files.
Early this week Uber's general counsel sent a letter to Levandowski, which was later made public via court filings. This letter essentially orders the engineer to either deny taking any documents or return the stolen files to Google, and if he doesn't comply he runs the risk of termination.
"We understand that this letter requires you to turn over information wherever located, including but not limited to, your personal devices, and to waive any Fifth Amendment protection you may have. While we have respected your personal liberties, it is our view that the Court's Order requires us to make these demands of you.

If you do not agree to comply with all of the requirements set forth herein, or if you fail to comply in a material manner, then Uber will take adverse employment action against you, which may include termination of your employment."
The court has been pressuring Uber to force Levandowski to cooperate with the investigation, or be found in contempt. It seems he now has a choice of either keeping his job or his silence.
VIA ArsTechnica