Uber chat lets riders message drivers in-app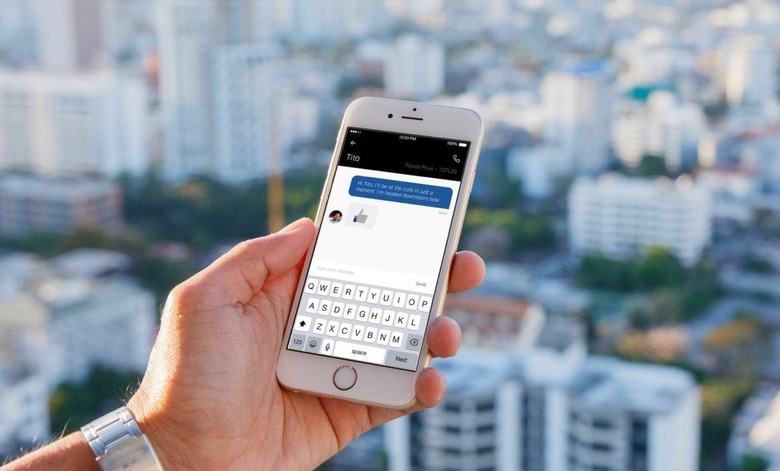 Uber has built in-app messaging into its ride-hailing app, allowing users to chat with their drivers without SMS, and promising more safety on the road as a result. The update, which is being pushed out to the Uber app from today, shifts conversations that would until now have been held over phone calls or text messages to a new, in-app chat client. For Uber drivers, meanwhile, it should make for an easier way to respond to the next ride while still keeping attention on the road.
Uber has always supported contacting a driver once a car has been assigned, though it's relied on methods outside of the app to actually do so. For instance, you can trigger a call your Uber driver or send them a text message from within the app, but the actual communications are done by your phone's standard dialer or SMS service. That can lead to problems for those who have signed up to Uber with one number but are using a device registered to a different one, or indeed are relying on Google Voice or similar services, since Uber may not recognize the account and thus not allow the text or call through.
There are also privacy issues, of course, involving giving your phone number to someone to call for a one-off purpose like making sure you're meeting a driver in the right place. The new system cuts all that hassle out. Rather than placing a call or sending a message with your phone's default service, there's now an instant messenger client built right into the Uber app.
Like Twitter DMs, it'll allow users to send questions straight to Uber's driver app. Those messages will be read out to the driver, reducing distraction, and they'll be able to either type out a response or send a one-tap "thumbs up" to acknowledge it. Read-receipts, showing that the recipient has seen the message, are supported on both ends of the conversation.
There are downsides to the new system, of course. For one, it'll rely on you having a data connection in order to make use of the chat service, which may or may not present a problem depending on where you are after you summon a ride.
Uber says the new chat feature will be rolling out from today, to both drivers and riders. It'll be supported globally, though again you'll need a data connection in whatever country you're visiting if you want to actually have a conversation.
MORE Uber