Twitter's acquisition of We Are Hunted officially announced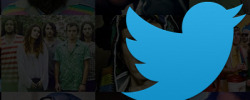 Word has had it for a while now that Twitter acquired music service We Are Hunted, which it is using as part of its rumored music app that we'd like to see an official announcement about some time soon. That acquisition was just made public by We Are Hunted, which announced it on its website while dropping precious few (and we do mean few) details.
We Are Hunted is now in the process of shutting down its website, according to the announcement, with the company publishing a public proclamation of gratitude for its users, its investors, and its board members. The service, which launched in 2007 and grew steadily over the years, is now part of the Twitter team, but it is being tight-lipped about what that involves.
Says We Are Hunted about the acquisition, "There's no question that Twitter and music go well together. Artists turn to Twitter first to connect with fans, and people share and discover new songs and albums every day. We can't wait to share what we've been working on at Twitter." But, unfortunately, it says that it is not ready to discuss about what it is working on with the microblogging network yet.
Such an announcement lends credence to the rumors that surfaced last month claiming Twitter is working on its own standalone music app that will use the We Are Hunted system and team. Thus far, word has it the app will allow users to stream music via SoundCloud and some other services, displaying Popular and Emerging music, as well as what other users are currently listening to.
[via We Are Hunted]