Twitter TV: "See It" button launches Comcast TV from tweets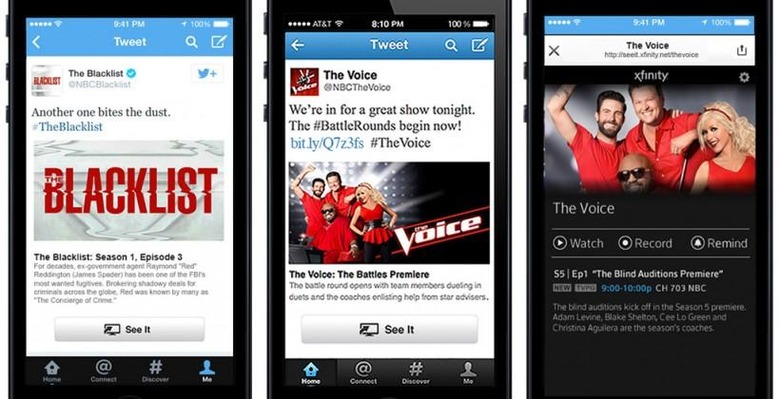 Twitter and Comcast have inked a deal that will add a "See It" button to Xfinity TV, allowing live or DVR access to new TV show and movie content mentioned on Twitter right on the TV in their living room. The new button will show up for Comcast Xfinity TV subscribers around NBCUniversal content, and when pressed will offer the choice of watching the show there and then if it's currently playing, starting On Demand playback, or setting a DVR recording for an upcoming screening.
It will also be possible to watch the content online, or via a smartphone or tablet. Setting a simple reminder to prompt you when the show is next on is also possible, and for movie content still in theaters there'll be Fandango integration to buy tickets.
The two companies are calling the system "social TV", and describing it as "an instant online remote control." In addition to the core "See It" button, there'll be a new ad campaign with sponsored tweets containing video clips from NBCUniversal shows.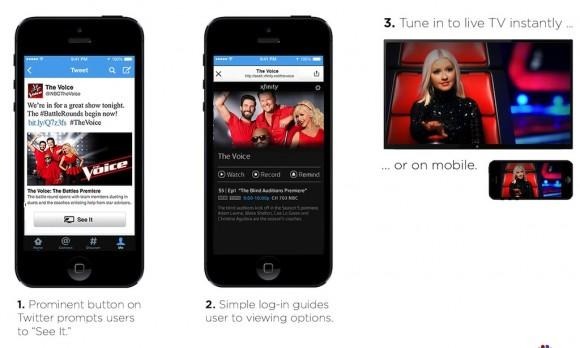 Initially, content from NBC, NBC Sports Network (NBCSN), CNBC, MSNBC, USA, Syfy, Bravo, Oxygen, E!, Esquire Network and The Golf Channel. Shows include: The Voice (NBC), The Blacklist (NBC), Chicago Fire (NBC), The Michael J. Fox Show (NBC), Sunday Night Football (NBC), Access Hollywood, NHL, Premier League Soccer, Sochi Olympics (NBC and NBCSN), Today Show (NBC), Psych (USA) and Suits (USA) will all be included.
However, that won't be the end of it. Twitter and Comcast say they're aiming for broader support for "See It' than just NBCUniversal's content, and are "in discussions with additional distribution partners and television networks that will use this feature to promote their content in the coming months."
Meanwhile there's also work being done on integrating Twitter with Comcast's X1 entertainment OS platform. That could then use trending data from the short message social network to display top shows and movies, and allow them to be navigated via the TV's remote.