Twitter introduces Simple Search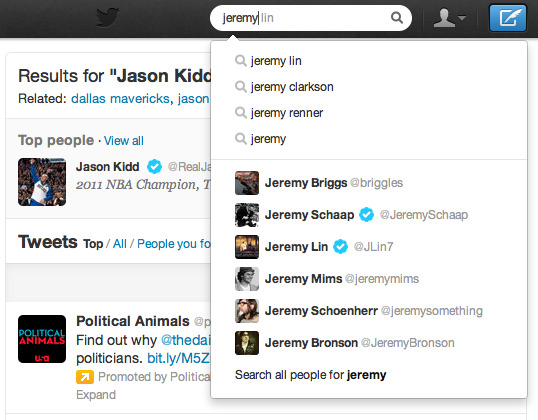 Representatives from the Twitter empire have today spoken of a new era of search within the home website of the 140 character titan. This upgrade within the site's codes will allow for "Simpler Search" as they put it, it including both search autocomplete and 'People you follow' search results. This update will require no additional effort from you, the user, with all of the newness coming from Twitter's own developers on their side of the web.
Search autocomplete will appear to you in the main search bar at the top of Twitter – the same place the twitter search bar has been for some time. What you'll see with this update is a list of results that pop up under the search bar whenever you type in several characters. You'll be able to select from these results or disregard them altogether if you'd like.
Also included in those results that pop up downward is a set of the people that you follow on Twitter as their name results to the word you're typing. After your search is entered, you'll see a list of results that come from an improved search engine inside Twitter that will push the following, per Twitter:
• Spelling corrections: If you misspell a term, we'll automatically show results for your intended query.
• Related suggestions: If you search for a topic for which people use multiple terms, we will provide relevant suggestions for terms where the majority of that conversation is happening on Twitter.• Results with real names and usernames: When you search for a name like 'Jeremy Lin,' you'll see results mentioning that person's real name and their Twitter account username.• Results from people you follow: In addition to seeing 'All' or 'Top' Tweets for your search, you can also now see Tweets about a given topic from only the people you follow when you select the 'People you follow' view. Viewing Tweets about a topic from just the people you follow is a great way to find useful information and join the conversation.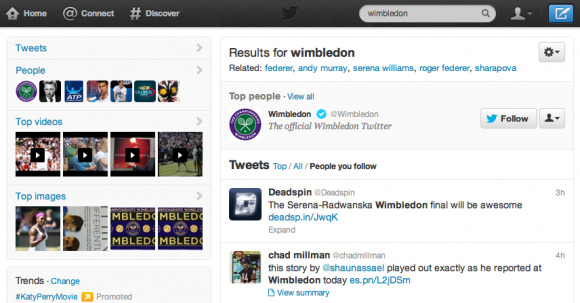 Results for your searches should be more relevant and accessing your friends' twitter accounts should be more of a snap than a click festival. Have a peek at our timeline below to keep up to date on all things Twitter as well – do it now!
ALSO NOTE: These changes won't be immediate, but you will see them soon!