Twitter for Mac v.4 adds group DMs, timeline GIFs, more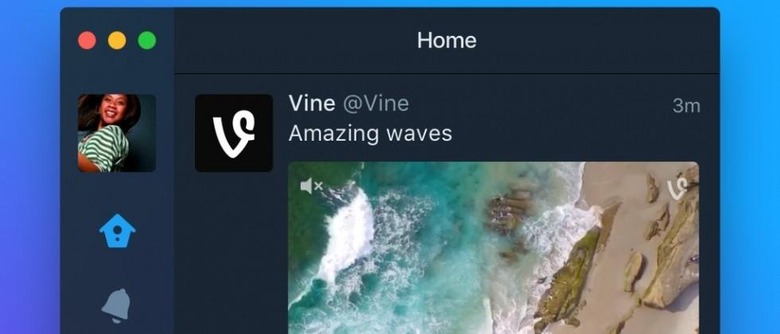 You'd be forgiven for thinking Twitter had forgotten all about its Mac app, but the 140-character social network has squeezed out v4.0 just before 2015 closes. A free download through the Mac App Store, Twitter for Mac 4.0 catches the desktop software up with some of the features its mobile counterparts have been enjoying for months now, like inline video playback.
There's also support for viewing GIFs, again without having to exit the timeline view, while group direct messages have been enabled too, for up to fifty people at a time.
A new Today Center widget pulls in the highlights from the people you follow, and the whole design and UI has been reworked to the latest button and icon style. There's an alternative "dark" theme, too, if the regular one isn't to your taste.
Mute support for specific accounts has been added, along with tweet quoting rather than just regular retweeting.
In short, there's nothing really significant here that we haven't seen before, but it may well be enough to get Mac users out of Twitter in their browser and onto the desktop again.
No word at this point about an updated Windows version, however.
SOURCE Twitter [App Store link]