Twitter custom timelines creation duty given to TweetDeck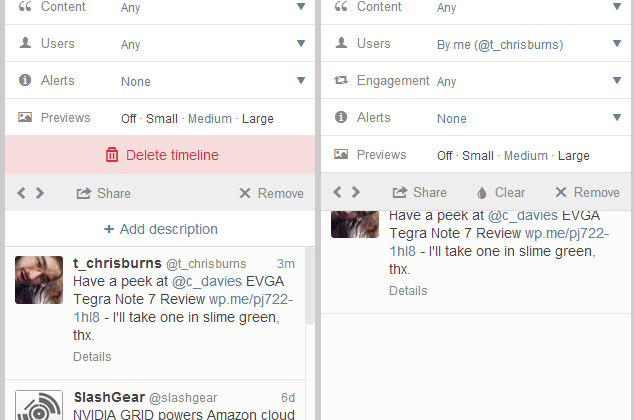 This week Twitter has announced a new Custom Timelines feature for Tweets, the creation of these timelines given – at first – to TweetDeck alone. Using Tweetdeck, Twitter users will be able to create a custom timeline of Tweets then publish them to Twitter – Twitter will then display them on a unique page that's editable from Tweetdeck.
What's interesting about this particular team-up is the fact that it'll not be limited to TweetDeck for long. Twitter is offering up an API for the masses this week so that developers from all sorts of services can make use of these new timelines and indeed create them from their own unique user interfaces in time.
At the moment you'll find custom timelines to be entirely public. They'll be displayed with their own unique URL on Twitter.com, will be editable by the initial timeline creator alone, and will be able to add any public Tweet to its listing. Each timeline has its own name and description and is made by a Twitter user – Twitter itself seems to be staying out of the creation of these timelines for now.
Have a peek at an extremely simple NVIDIA timeline just whipped up in about 5 minutes this afternoon of NVIDIA-related bits and pieces from SlashGear:
NVIDIA
Timelines are embeddable right out the gate, and they're extremely simple to construct. It's all about dragging, dropping, and making sure your subject matter is easy enough to search for. At the moment you'll only be able to grab Tweets from the past few weeks. Tweetdeck may or may not expand on this in the future – we'll be crossing our fingers.