Twitter archive download option begins roll-out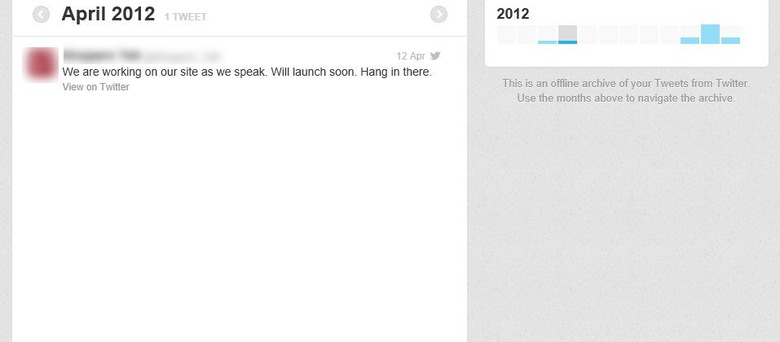 Twitter has reportedly begun rolling out its "tweet archive download" option, allowing users of the micro-blogging service to save a cache of all of the messages they've ever posted. The feature, promised to be on the roadmap before 2012 was done by Twitter's CEO Dick Costolo, is still believed to be progressively rolling out to users – presumably to avoid a server storm of eager archivists – but will seemingly work much as Facebook's system works.
The new option – "Your Twitter Archive" – appears at the bottom of the settings page on the Twitter site when available. When selected, Twitter's servers get busy cooking up a ZIP file; an email alerts you that the archive is ready.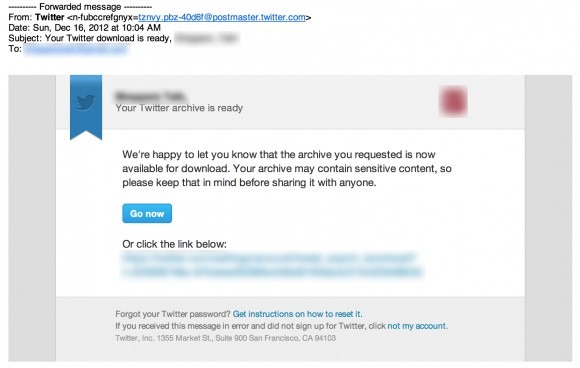 The archive itself is presented in HTML form, Twitter user Psanta - who was among the first to spot the newly enabled option – says, and sorted by date from your first, potentially embarrassing message to the latest you've been sharing. "Your archive may contain sensitive content," Facebook's message warns, "so please keep that in mind before sharing it with anyone."
Facebook began offering a similar database download system back in April, allowing users of the social site to keep an offline record of everything they've shared. It also contains a list of IP addresses, login records, and other details about actual usage, something Twitter doesn't appear to be offering.
Both browsing the Twitter archive by date, and searching, are apparently supported. We've checked Twitter accounts here and are yet to see the archive option; let us know in the comments if you can see any differently.
[via TNW]