Twitch Prime now gets you free anime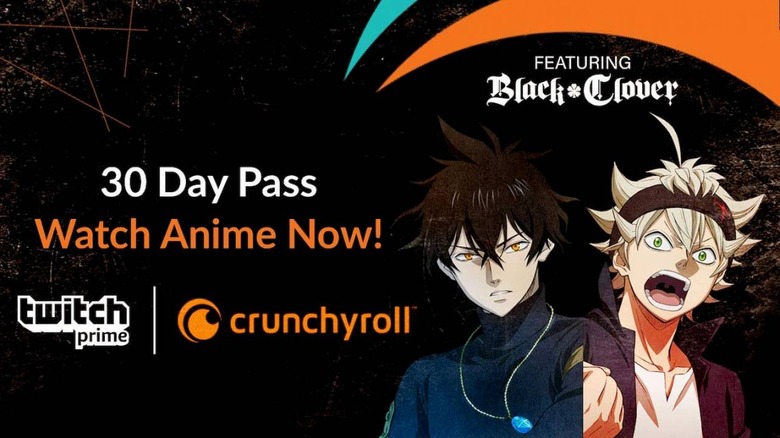 Twitch Prime offers some pretty nifty perks to people who play a lot of video games or watch a lot of live streams, and now the same is true for people who watch a lot of anime. Today, Twitch Prime announced a new promotion that will see it hand out 30-day subscriptions to Crunchyroll Premium to all of its members. The promotion kicks off today and runs through June 13th, so you've got a month to redeem this trial to Crunchyroll.
Though this isn't the first time Twitch Prime has handed out subscriptions to other services, this is the first non-gaming perk it's offered. Premium is the middle-tier plan that Crunchyroll offers, and it includes access to all of the manga and anime in Cruncyroll's library. The video content you watch is ad-free with Crunchyroll Premium as well, which typically costs $7.99 per month.
So, if you've been thinking about signing up for Crunchyroll but you couldn't decide if a subscription was worth the cost, you can use this Twitch Prime promo to try it out for a month. Redeeming the 30-day code is a pretty simple process, as all you need to do is click on the Twitch Prime crown you see in the upper right-hand corner of any Twitch page you visit as you're logged into your account.
From there, find the Crunchyroll subscription offer and click the "Get Code" button. Doing that will reveal your code and redemption link, which will take you to Crunchyroll's website. Either log into your account or create a new one, redeem your code, and you're good to go.
Twitch Prime has been dabbling in offering subscriptions to other services lately. Not too long ago, it kicked off a promotion that gives members up to a one year subscription to Nintendo Switch Online – a promotion that's still active. Perhaps that and this Crunchyroll promotion are a sign of things to come? We'll keep our eyes open for more, but for now, head over to Twitch and snag yourself a free month of Crunchyroll Premium.