TwelveSouth's BookArc Makes Your Laptop a Desktop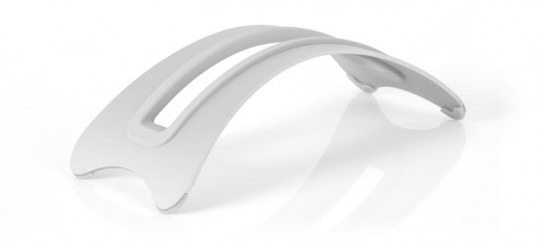 We've heard from TwelveSouth before, and so we figured we should keep our eyes on these crazy designers. Looks like it paid off. Much like the first iteration of their crafty designs we saw, the BookArc is meant to keep your desk nice and tidy. And let's face it, you probably need it. But unlike the BackPack, the BookArc is meant for bigger and better things: your Macbook.
It's designed to fit any and all sizes of the current Macbook line, from the Air all the way up to the 17-inch Macbook Pro. And while it may look pretty futuristic, believe us, it's perfectly meant for this day and age. It comes with three different sized, scratch-free silicone cushions that insert into the stand itself, and are super-easy to install, and remove as you see fit. They're designed to make sure that you're Macbook doesn't go anywhere, even if your desk moves around a lot for some reason.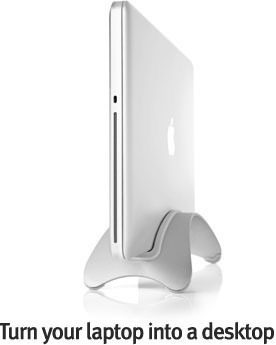 Close up your Macbook and give that shiny display a rest for a bit. TwelveSouth is also promoting that if you put your laptop in their BookArc, it will actually improve your machine's performance. They say that if you run it while closed and connect a peripheral display, the Macbook will instantly divert all power to the external display, instead of splitting it as it does normally. So, you'll see a vast improvement in graphic-intensive software, like Aperture or iPhoto. Right now, the BookArc is on sale at Apple retail stores, as well as TwelveSouth's online store, and going for a cool $49.99, or $249.99 in a six-pack if buying in bulk is more your thing.
[via TwelveSouth]