Twelve South's BackPack Keeps Things Out of Sight, Close At Hand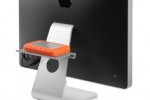 So you've got that sleek and shiny Apple iMac sitting on your desk, but you just can't seem to find a place for all those loose USB drives, external hard drives, or a place for your iPhone when it's charging. Well, Twelve South has just the thing for you.
They're calling it a BackPack, and we think the title fits pretty well. It's 0.95x7in and weighs only half a pound, but it can hold up to five pounds on its gauge steel surface. The BackPack slides onto the L-shape desk stand on all iMacs, as well as the Apple Cinema Displays with the same style stand. It fits right on the arm itself, and uses gravity to keep the non-scratch surface from sliding around.
The shelf is also ventilated, so that if you do keep any running hardware on it, you don't need to worry about it overheating. So if you have anything to hide, or just want to keep your things out of the way and your cables hidden from view, then slapping down $29.99 for this Apple-exclusive might just be the thing for you.