Turtle Beach Titanfall Earforce Atlas Gaming Headset Review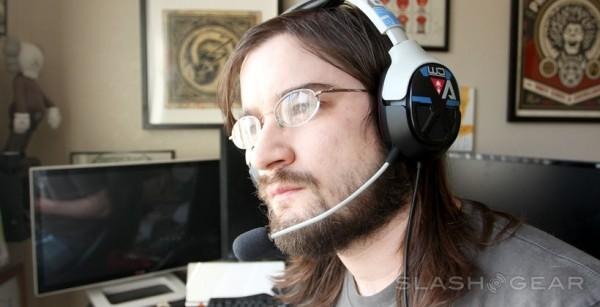 While we've left "for Xbox One" out of the title here, we've done so for a (relatively good) reason. This is because, while this headset is aimed at the Xbox One, it does not need to be used with the Xbox One – and it's just as viable an option for the Xbox 360. In the box you'll be getting every cord you need to connect to basically any device you have, and the headset is Titanfall branded – is that enough?
Of course not – the headset has to sound good coming in and going out as well. You're working with a headset with speakers that ring in at 20Hz-20kHz, <120dB SPL@1kHz frequency response. This means you're not pushing the highest-possible quality in the world, but for the price, you're getting something that's OK. For the microphone you've got just as much power as you'll need: 100Hz-10KHz.
NOTE: Check [our full Titanfall Review] for more information and insight on the game for both Xbox One and PC through Origin than you'll ever need!
The speakers in each headphone work with 50mm diameter and neodymium magnets. For the common user, these headphones are great. They feel solid, above all else, and they certainly look the part if you're going all-out Titanfall shopping.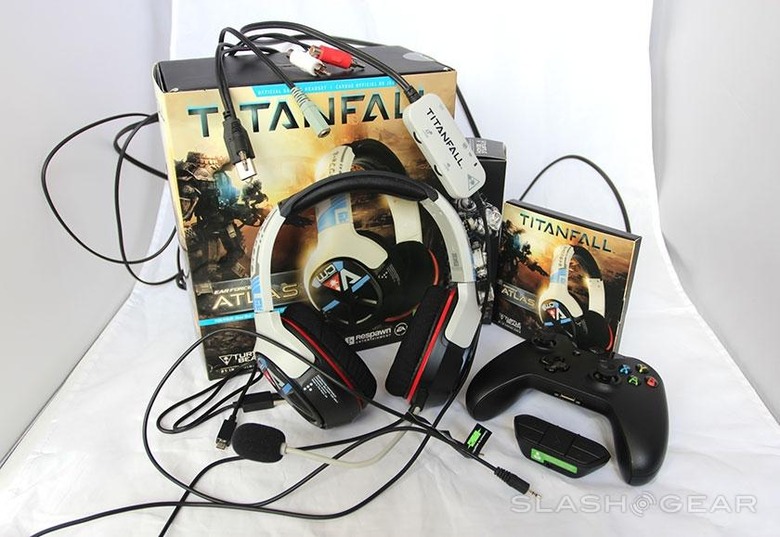 In the box you get a quick start guide, Xbox One audio adapter (essentially the same as introduced just recently by Microsoft). You'll get an RCA splitter cable, Xbox 360 talkback cable (straight), and a detachable in-line amplifier.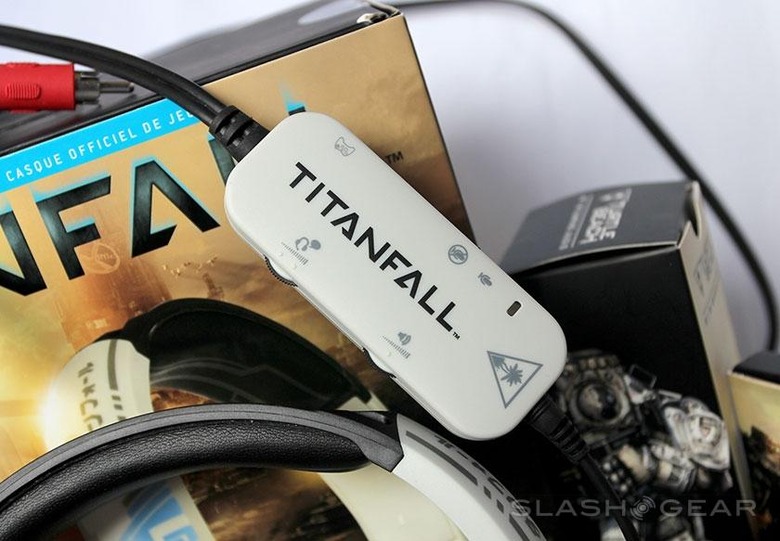 And you'll get the headset itself, of course, with removable mic boom. This mic works with a hard body that can be bent any which way, allowing you to set it exactly where you see fit – in front of your mouth.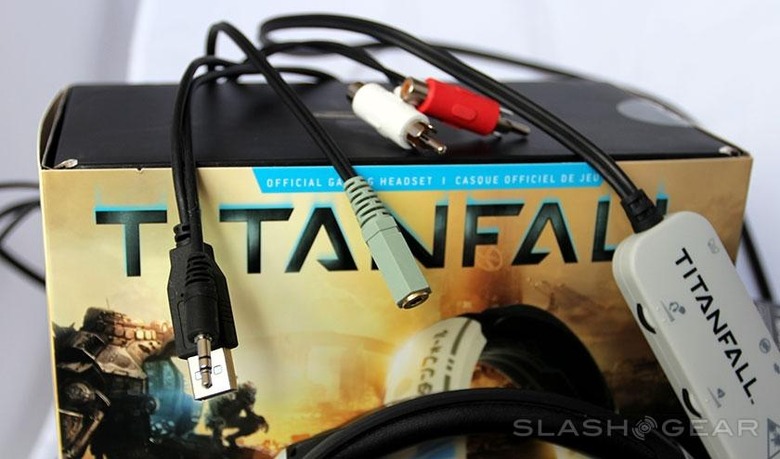 Right out of the box, if you're using an Xbox One, you'll need to do a standard Controller Update. This is the same update you'd do if you purchased Microsoft's-branded controller audio adapter also released this month.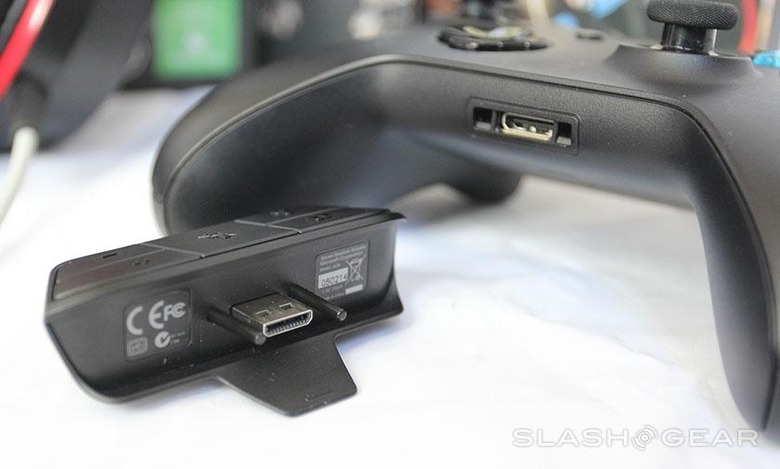 Microsoft's current push of wireless audio to the Xbox One wireless controller supports stereo signals. Because of this, this headset – and every other headset made for Xbox One today – do not receive "true" virtual surround sound. In this case, you're better off setting up a surround sound system in your room run straight out from the back of the Xbox One's audio jack.
The audio delivery on this pair of headphones depends largely on the source – sometimes this means audio is more immersive when coming from a PC than it does from the Xbox One. If you're all about getting the highest quality we've experienced coming from the Xbox One's controller audio adapter right here in the first few weeks of its arrival, then have a peek – this may very well change once we post our review of the Turtle Beach Earforce XO Sevens, but we shall see.
Note: The Turtle Beach Earforce XO Seven headset works with the same frequency response and speaker sizes as this Titanfall-branded headset, so they'll likely be identical in sound quality.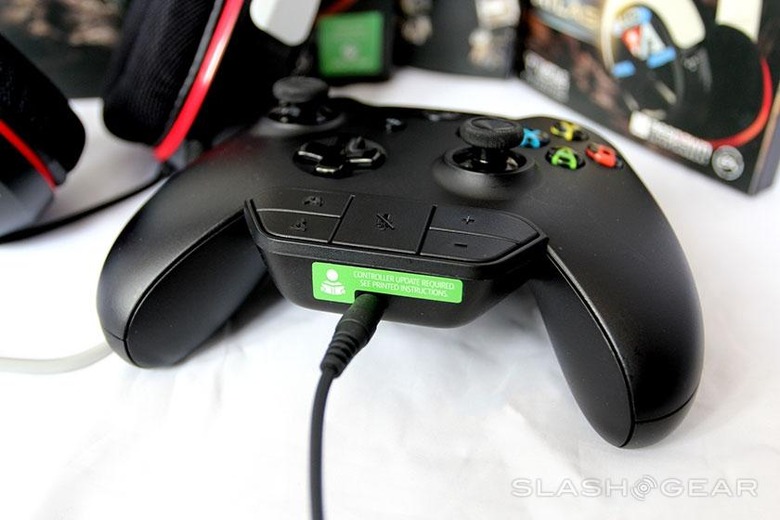 Xbox 360 audio is similar, requiring a couple of cords to push audio to the headset, resulting in as fine a quality as we've heard coming from this particular system. The great thing about this headset is its versatility. If you're the sort of person that – for whatever strange reason – have Titanfall on Xbox One and PC and plan on playing it on Xbox 360 as well, you're set.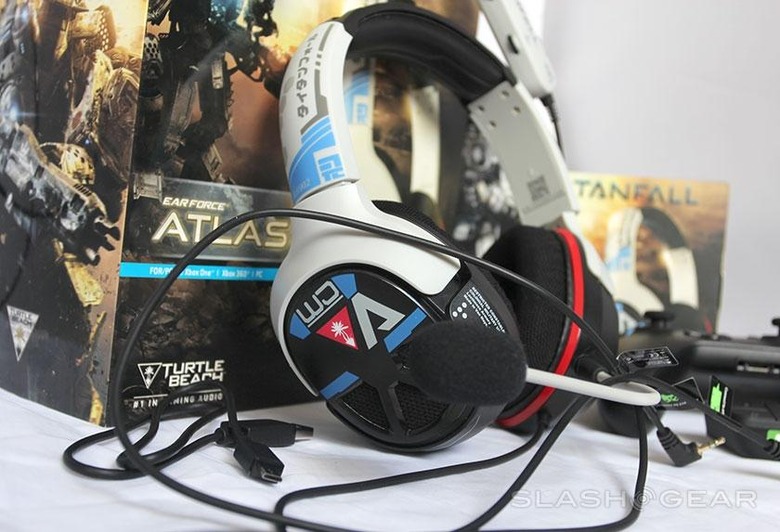 You have only to keep this massive set of cables in order, of course. What you'll have to ask yourself here is if you're willing to pay twice as much for a pair of headphones to go with Titanfall as you did for the game itself – this headset costs $149.95 at the moment. If you're all about making certain you're all decked out for Titanfall with sharp lines, blue, red, black, and gray, then by all means, go for the Atlas.