Turtle Beach Elite Pro Headset Review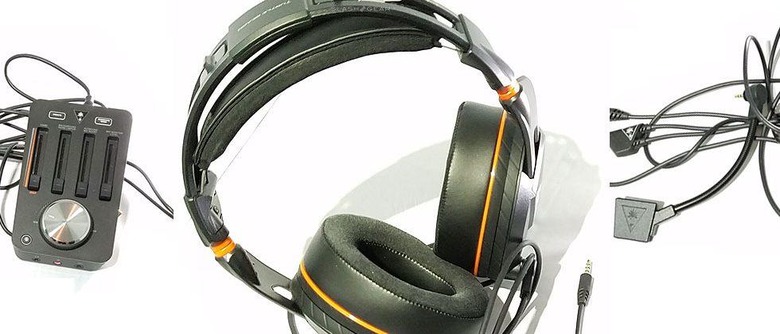 The esports-aimed Turtle Beach crew have aimed for a major win with their full Elite Pro headset package. They aspire to be the go-to brand for headsets of the upper-class professional gamer with this headset and its accessories. What's fantastic about this headset isn't the audio, believe it or not (though that's top tier too), it's the comfort. It's the glasses notches. It's the gel-infused memory foam around my ears.
Comfort
When I put these headphones on my head, it feels like a pair of tiny leather donuts that've been placed in a refrigerator for about 10 minutes then attached to a headband and placed on my person. They retain some coolness, and somehow seem to keep cool through extended use.
The outer bits are leather, while the parts that actually rests against the sides of your head are cloth. It's the combination of two that makes these headphones exceedingly comfortable.
That'll be the "gel-infused foam" and actual leather sidewalls made to "isolate the acoustic chamber". That they do.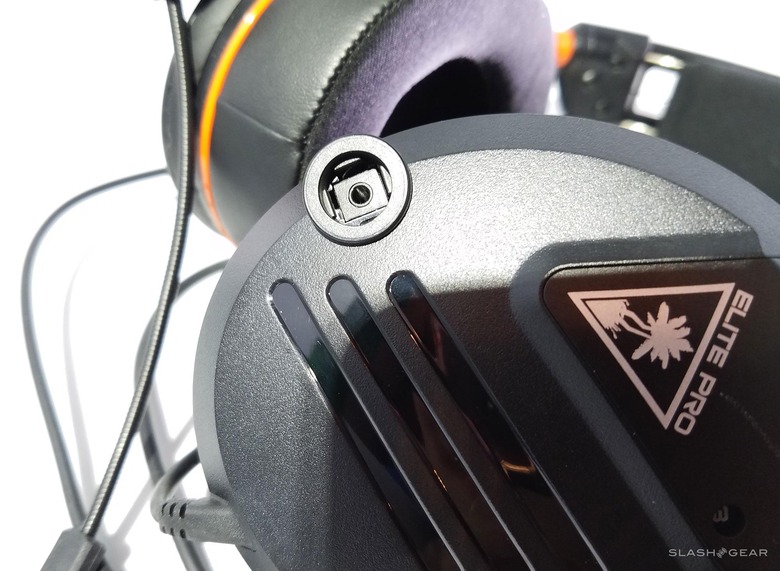 The pads on these headphones are beyond your everyday headgear cushion comfort.
They're so comfortable they make me want to wear them when I'm not listening to any sort of audio, just to feel the cool push of their soft interiors around my ears.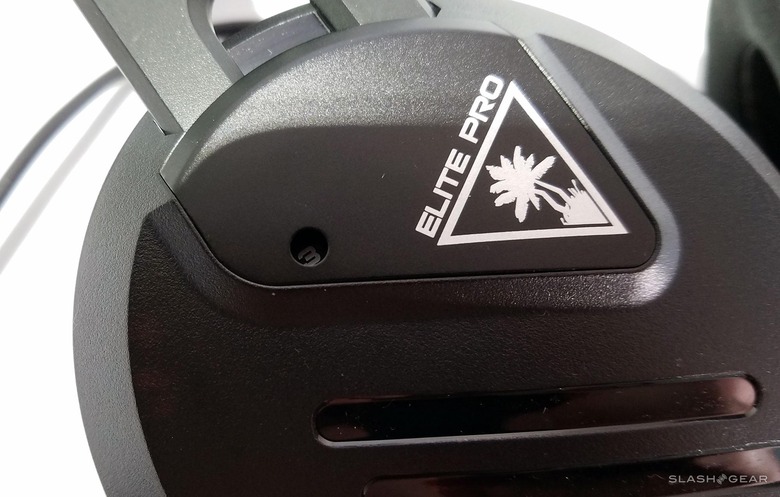 They've got about an inch of give up/down at each side, and at the top of the headband you'll find a couple of sliders connected to metal bars that I'm not 100% convinced do anything significant.
Regardless, this pair of headphones sits extremely comfortably on my head, as well as the heads of all the members of my immediate family, large and small.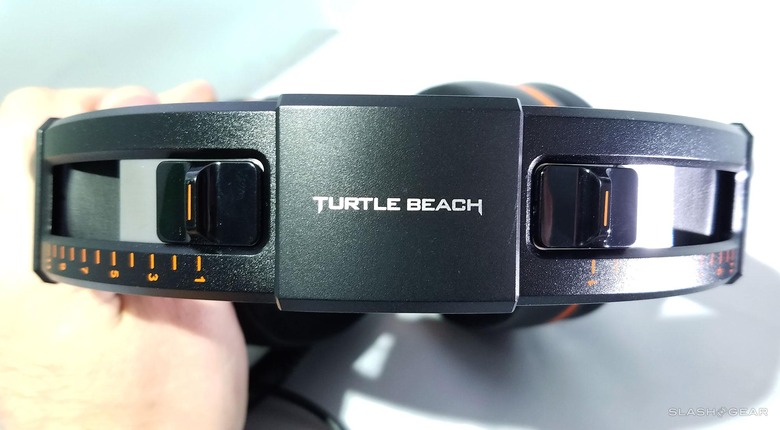 While these headphones aren't aimed specifically at blocking out all sound around you, the gel foam inside the earpads combined with the leather outside does block quite a bit. More than any other pair of headphones we've tested in the past for this amount of cash (or less).
Adding to the comfort, for me, is the glasses system this headset works with. Turtle Beach has branded this solution, of course, calling it their "ProSpecs Glasses Relief System".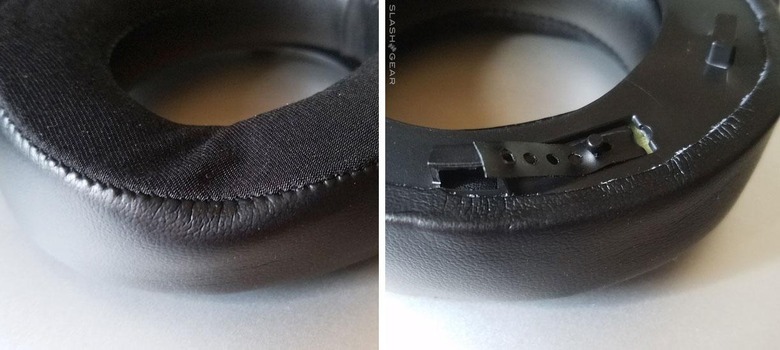 While the Elite Pro Headsets listing suggests this feature works with a "switch", it's actually more of a strap. You'll turn the ear cup cushion of the headset to release, find the rubbery strap you see here, and pull it out as you see fit, reconnecting with the cup to hold the foam down in place.
Once this system is holding that bit of the foam down, it's far easier to live with the headset on for long periods of time with glasses on my face. I need those glasses, mind you – so a system like this is a real relief, to be sure.
Audio
This headset works with what Turtle Beach calls 50mm "Nanoclear" Speakers. The headset on its own sounds as well as can be expected. Spacial Audio, all the variance in tone you'd hear from other 50mm drivers in similarly priced headsets – it's here. You'll hear it.
You will not have to worry about an opponent sneaking up behind you in the game for lack of sound. You'll hear their footsteps.
If they sneak up behind you while you're wearing this headset in real life, on the other hand, there's a distinct possibility they'll get the drop on you. You won't be able to hear much outside the game. It's blocked!
You're going to get a high quality audio experience, even before you add on the optional Elite Pro Tournament Audio Controller – though if you don't want to tac on another $200 for that, we'd understand.
If you DO want to add on the Elite Pro Tactical Audio Controller, you'll be rolling with some high-end extremely precise control over what you're hearing. This accessory should be used by those that like a physical audio levels controller – specifically those that want granular control over how high their chat is with teammates, and how that chat is mixed with gameplay sounds.
If you want to give your chat game a boost, there's also the Elite Pro Tournament Noise-Cancelling Microphone.
It looks a lot more impressive than the standard mic that comes with this headset, but whether or not it's worth the extra $30 you'll be paying for it, we're not quite convinced. Of special importance is the fact that you'll need the Elite Pro Tactical Audio Controller to get the Elite Pro Tournament Noise-Cancelling Microphone to work.
Verdict
This headset is our new favorite. If you're all about the highest quality gaming experience for both sound and comfort – especially if you're playing team esports – this is a headset you're going to want to grab.
You'll be paying a cool $200 USD for the Turtle Beach Elite Pro Tournament Headset wherever fine Turtle Beach accessories are sold.
Again, whether or not you want to lay down an extra $200 for physical controls for your audio output and input, and an extra $30 for a slightly nicer mic, is up to you.
SPECIFICATIONS
Console Chat Connection – 4 pole 3.5 mm stereo jack
Audio Connection- 4 pole 3.5mm jack
Microphone Design – Removable Omni-Directional Gaming Microphone
Speakers- 50mm NanoClear
Audio mute – Yes
Weight – 1.1 lbs
Speaker Frequency Response- 12Hz-22kHz
Earcup Design – Over Ear
Headband/Earpad material – Spandex, Leather, Gel infused memory foam
Mobile Device Connection – 4 pole 3.5 mm stereo jack
PC Mic Connection – 4 pole 3.5 mm stereo jack
PC Connection – 4 pole 3.5 mm stereo jack
Platform – PS4, Xbox One, PC, Mobile