Trump live streams on Twitch for 2020 election rally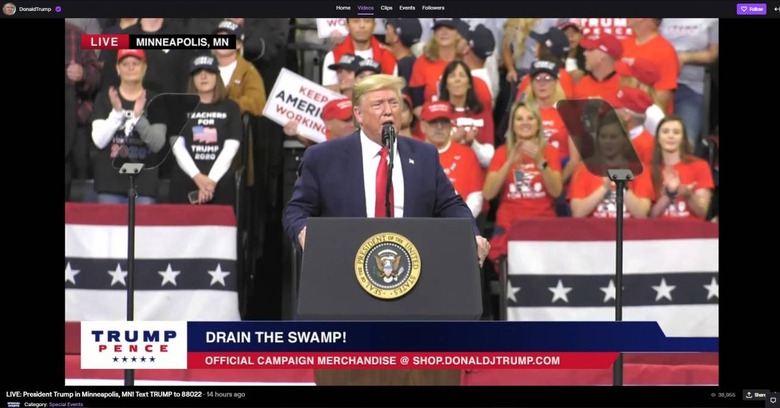 Politicians are always looking to ways to appeal younger generations, and that's led some of them to turn to video game streaming platform Twitch. We can now add US President Donald Trump to that list, as he used the platform to stream a campaign rally from Minneapolis last night. That was likely the first of many Twitch livestreams for the President, who already has a verified account.
It's a bit strange to see Trump streaming on Twitch, given his apparent distaste for video games and his often blatant distaste for Amazon founder (and Twitch owner) Jeff Bezos. Still, it's clear that someone in Trump's campaign thought that streaming through Twitch would be a good way to reach younger people, and it looks like they were right, as the saved video from last night's rally already has more than 37,000 views.
Funnily enough, attempting to watch the VOD of the rally surfaces an alert that says portions of the stream have been muted "as it appears to contain copyrighted content owned or controller by a third party," so it seems not even the President can get around Twitch's automated copyright systems. In any case, Trump's Twitch account is doing rather well here at this early point, as it already has 45,000 followers under its belt.
Trump, of course, is not the first politician to appear on Twitch. Bernie Sanders owns a relatively active Twitch channel himself, which he uses to stream rallies, town halls, and other events. Though she doesn't have her own Twitch channel, New York Representative Alexandria Ocasio-Cortez has made a high-profile appearance on the platform as well, hopping on a call with Hbomberguy to support one of his charity livestreams earlier this year.
With the 2020 election cycle now in full swing, we may see other Presidential hopefuls follow in the lead of Sanders and Trump and start Twitch channels of their own. At the very least, this could be a good way for people without cable subscriptions to keep up on political rallies, though you might want to do yourself a favor and close Twitch chat if you decide to visit Trump's channel.