Trump Guts National Monuments; Patagonia, Wildlife Groups Fight Back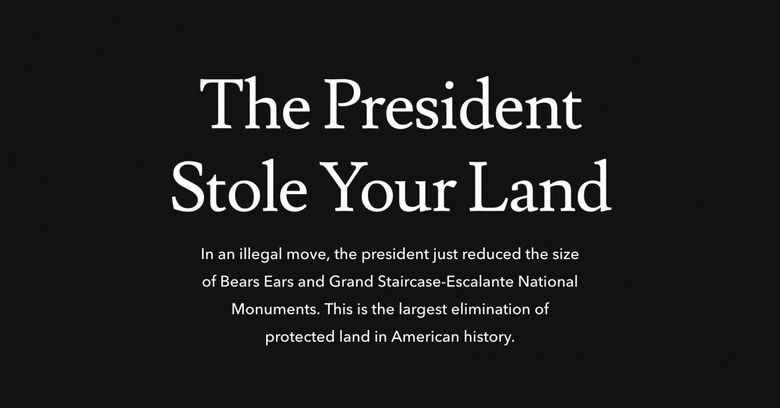 This week the folks at Patagonia clothing company have launched a largely web-based response to Trump's secret axing of National Monument land. The two National Monuments Trump reduced were Bear Ears and Grand Staircase-Escalante, one each of these designated by Trumps 2 most recent Democratic predecessors. President Bill Clinton classified Grand Staircase-Escalante in 1996, and President Barack Obama designated Bears Ears a monument in 2016.
Donald Trump just initiated the largest elimination of protected land in American history. Teddy Roosevelt is spinning in his grave. Teddy Roosevelt is basically spinning so fast right now he could power the continental United States. Patagonia is also highly displeased.
"We have fallen heirs to the most glorious heritage a people ever received, and each one must do his part if we wish to show that the nation is worthy of its good fortune."

— Teddy Roosevelt
Patagonia has gone black online. Generally their homepage is home to a variety of images and links to their many outdoors-friendly clothing pieces and accessories. Today it's all about fighting back against the largest elimination of protected land in American history.
Two proclamations were signed and released this week by Trump. One reduced the size of Bears Ears National Monument, the other reduced the size of Grand Staircase-Escalante National Monument. You can view the Bears Ears proclamation as well as the Grand Staircase-Escalante proclamation at WhiteHouse.gov now.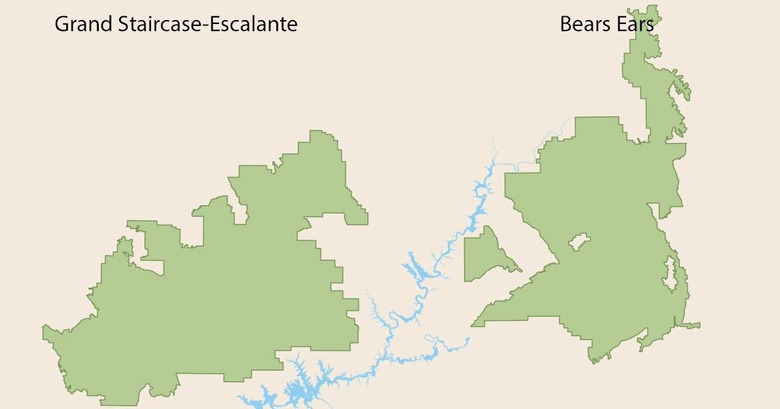 The map above shows the land masses that belong to the two National Monuments in question this week. The map below shows what these National Monuments will be reduced to if Trumps modification to previous presidents proclamations go through without legal stoppage.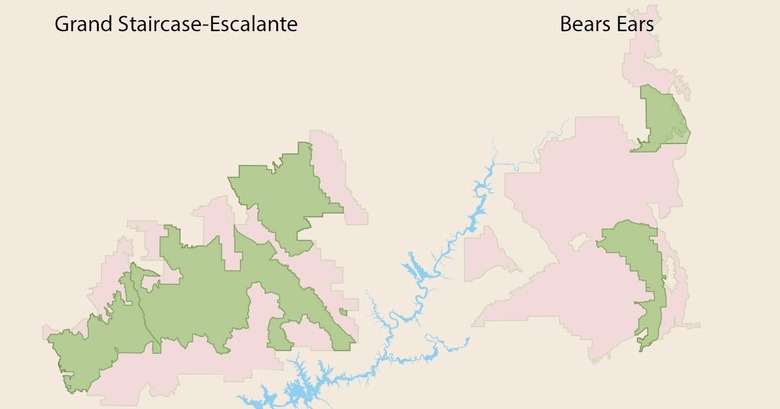 Patagonia released a statement that reads as follows: "Patagonia has been in the fight to protect public lands for almost 30 years— and we are proud to have played a part in the establishment of several national monuments, including Bears Ears National Monument in Utah and Basin and Range and Gold Butte National Monuments in Nevada. We are also proud to stand alongside over 350 businesses, conservation groups and Native American tribes that have come together on this issue to protect public lands. Climbers, hikers, hunters and anglers all agree that public lands are a critical part of our national heritage and these lands belong not just to us, but to future generations."
Per the New York Times, Trump suggested the following at a press conference for the signing of these proclamations. "Some people think that the natural resources of Utah should be controlled by a small handful of very distant bureaucrats located in Washington," said Trump.
The statement Trump makes – and indeed his entire reasoning for cutting back on National Monument land – hinges on the idea that the federal government is "controlling" the natural resources therein. The way he positions his actions, he implies that the federal government's National Monument program is an attempt to steal the land and its resources from the people that live nearby.
In reality, the creation of a National Monument does not give the federal government the right to extract any natural resources whatsoever. The proclamation of a National Monument gives federal protection to the land and removes the land from the possibility of deforestation, industrial development, resource extraction, and more.
In the cases of these two National Monuments, wildlife is just one of a wide variety of concerns. Also on the list are historical and natural elements aplenty – both of the Trump proclamations present these protected elements in detail. For brevity, we'll list only those items on the Bears Ears proclamation, which references the original proclamation which made the land a National Monument (Proclamation 9558).
"Proclamation 9558 identifies a long list of objects of historic or scientific interest. It describes cultural resources such as ancient cliff dwellings (including the Moon House and Doll House Ruins), Moki Steps, Native American ceremonial sites, tools and projectile points, remains of single-family dwellings, granaries, kivas, towers, large villages, rock shelters, caves, and a prehistoric road system, as well as petroglyphs, pictographs, and recent rock art left by the Ute, Navajo, and Paiute peoples. It also identifies other types of historic objects, such as remnants of Native American sheep-herding and farming operations and early engineering by pioneers and settlers, including smoothed sections of rock, dugways, historic cabins, corrals, trails, and inscriptions carved into rock, and the Hole-in-the-Rock and Outlaw Trails. It also describes landscape features such as the Bears Ears, Comb Ridge, Cedar Mesa, the Valley of the Gods, the Abajo Mountains, and the San Juan River, and paleontological resources such as the fossil remains of fishes, amphibians, reptiles, and mammals, as well as dinosaur trackways and traces of other terrestrial animals. Finally, it identifies several species, including animals like the porcupine, badger, and coyote; birds like the red-tailed hawk, Mexican spotted owl, American kestrel, and turkey vulture; and plants such as the Fremont cottonwood, Abajo daisy, western sandbar willow, and boxelder."

- Presidential Proclamation Modifying the Bears Ears National Monument, December 04, 2017.
Of note is the fact that this is not an entirely new proclamation, but a modification of a proclamation. Legal opponents to this new proclamation have suggested that neither the Antiques Act nor any other presidential power allows Trump the ability to cut down National Monument land whatsoever.
The map images above were provided by Wilderness dot org. (I've modified the coloration of their original gif for clarity.) Wilderness dot org also did a series of interviews with residents of the area in Bears Ears and Grand Staircase-Escalante National Monuments to help identify actual local resident opinions on the matter.
This is not the end of this matter. Trump also plans on "reviewing" the space of dozens of other National Monuments over the coming weeks and months. The map below shows each of the monuments currently at risk.
The leading lawsuit up against these proclamations made by Trump is initiated by a variety of wildlife groups led by The Wilderness Society. In the PDF here you'll find the full extent of the lawsuit as such.