Troll Touch Adds Touchscreen To iMac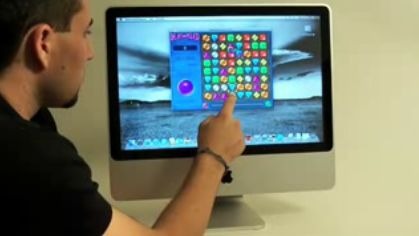 For anybody wanting to jab rather than click on their iMac, Troll Touch offer a DIY touchscreen kit that adds a finger-sensitive layer to the front of the slick desktop system.  Available for both 20 and 24-inch iMacs, the new touch panels join a range that already caters for Apple's laptops and Cinema Displays.
Check out the demo video after the cut
Unfortunately the system doesn't support MultiTouch, which Troll Touch have claimed is due to OS X not supporting multiple cursors.  Whether that will change once Microsoft get into their stride with MultiTouch on Windows 7 remains to be seen.
It's not exactly a cheap option: the 20-inch kit is priced at $699 and the 24-inch kit at $899.  Troll Touch will also retrofit it for you if you ship your iMac to them, or alternatively sell you a new one with the touchscreen pre-installed.
[via TUAW]