TRIWA x Humanium Metal Hu39 watch Review
The Hu39 is a watch made by TRIWA with the melted metals of illegal firearms: Humanium Metal. It's a rare opportunity to behold a piece of hardware in which the materials are more meaningful in their delivery than the product which they create. Here the medium is the message, and the message is that firearms are more valuable (and far less dangerous) to humanity melted-down than they are active. Plus the watch looks real nice, too.
We've got a couple of companies at work here. One is TRIWA, creators of fine watches and designer of the Hu39 and Hu34. The other is IM Swedish Development Partner, the creators of Humanium Metal by IM. More information on the Humanium Metal project can be found later in this article.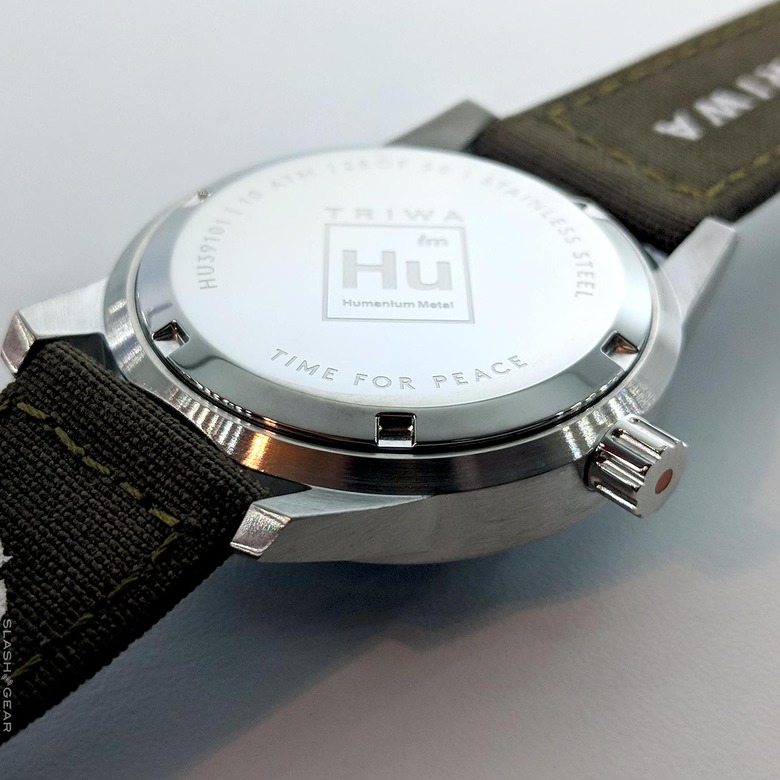 Details
The TRIWA Humanium Watch we've got here today has a Sapphire glass cover and a 39mm size with brushed metal case and grey color face. This same model, the Hu39D, also has options for a Brown Sewn Classic strap or a Black Sewn Classic strap. The version we've got is one of four: there's also a Hu39L (L for light, D for dark), and a Hu34D and Hu34L.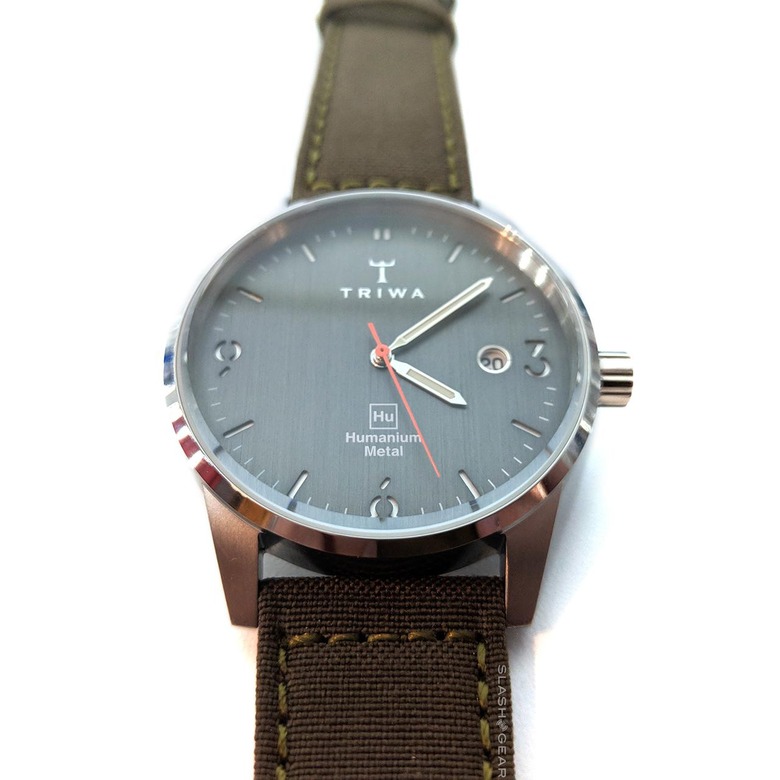 This watch has Japanese Miyota quartz movement and features "luminous" hands and "firey red" details. The second hand, is bright "firey" red, while most of the rest of the watch is one or more tones of gray or silver.
Dial indexes are punched down past the face of the watch, appearing with the same tone underneath as the dip in the hands. The hands each have a channel through which this off-white color flows. Up close and personal you'll find the spaces in each hand apparent.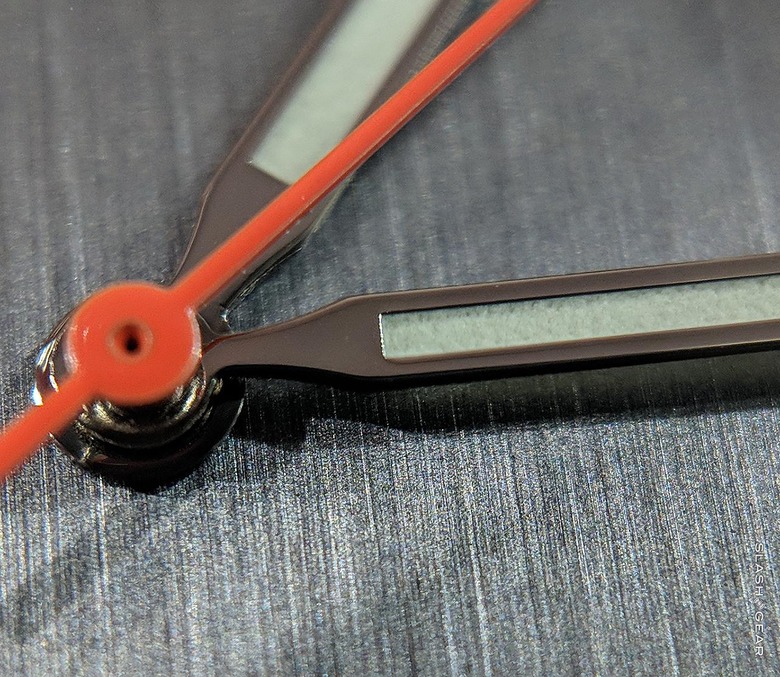 TRIWA Hu39 works with 10 ATM Water Resistance and has a removable backside for parts replacement and etc. Adjustments for the watch's hands is provided by the revolving crown. Unscrew the crown, pull out, and move back and forth at will. The crown has a set of notches around its side and a single firey red circle at its head.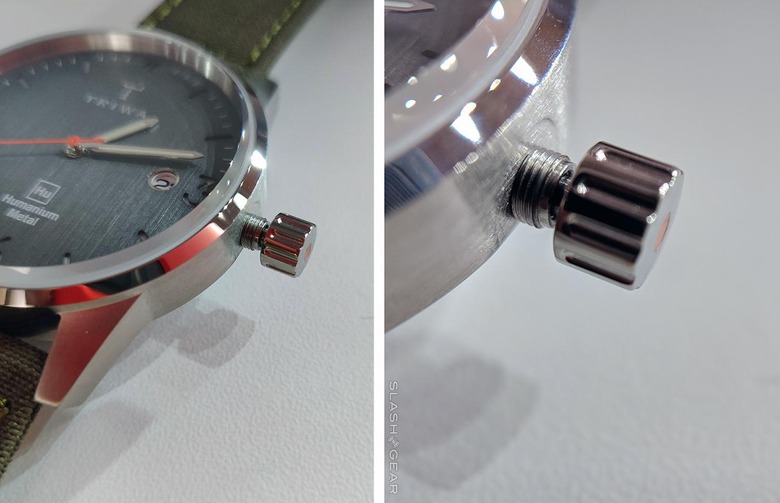 You'll find the TRIWA and Humanium Metal logos appearing above or below the hands on the face of the watch. You'll also find the Humanium Metal symbol etched into the side of the watch.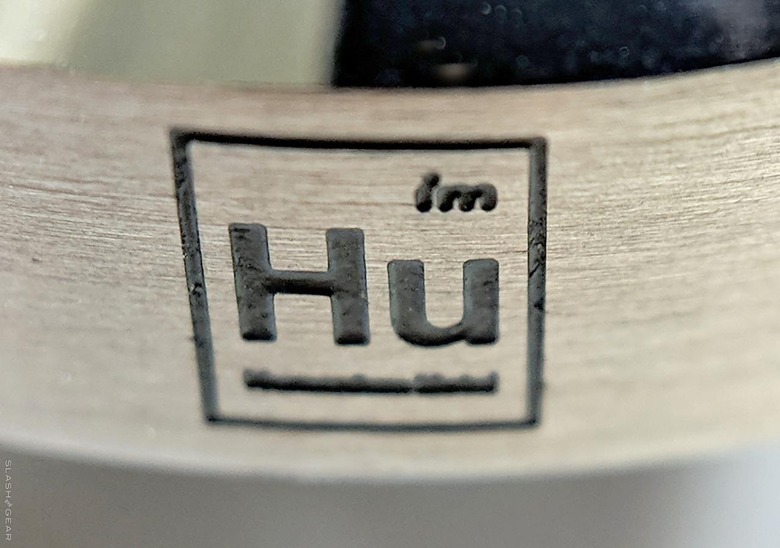 The removable back cover of the watch features the message TIME FOR PEACE as well as the logos for TRIWA and IM Humanium Metal, and a unique number. Each watch is individually numbered according to the order in which they were created.
If you're so lucky as to have the tools necessary to go under the back cover, you'll find the following. There's a rubber gasket under there – which isn't especially easy to put back in place after it's moved, mind you. Also I'm certain you won't get the same waterproof guarantee if the watch has ever been opened, especially by a non-professional.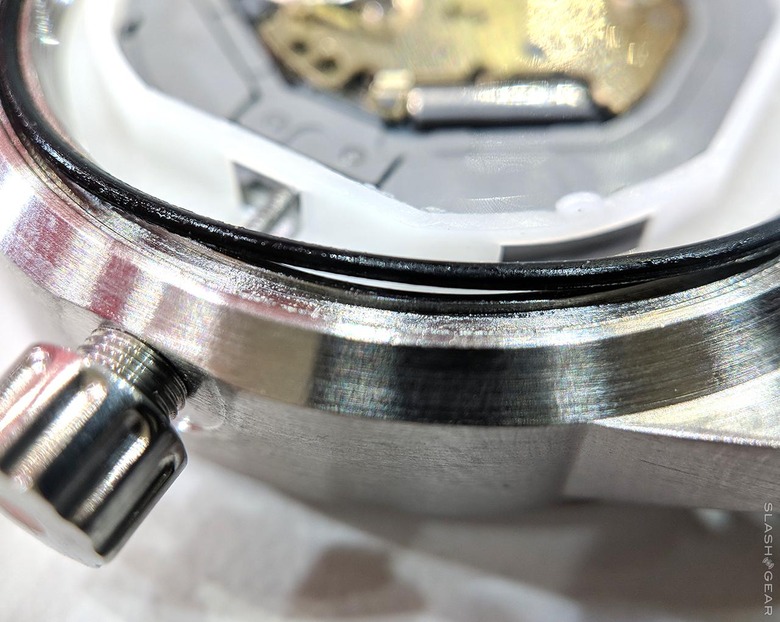 There's a Sony battery in here as well as a few details the average wearer won't end up seeing. There's a plastic ring that holds the main watch components tight and secure and a set of etchings from the manufacturer of the hardware inside.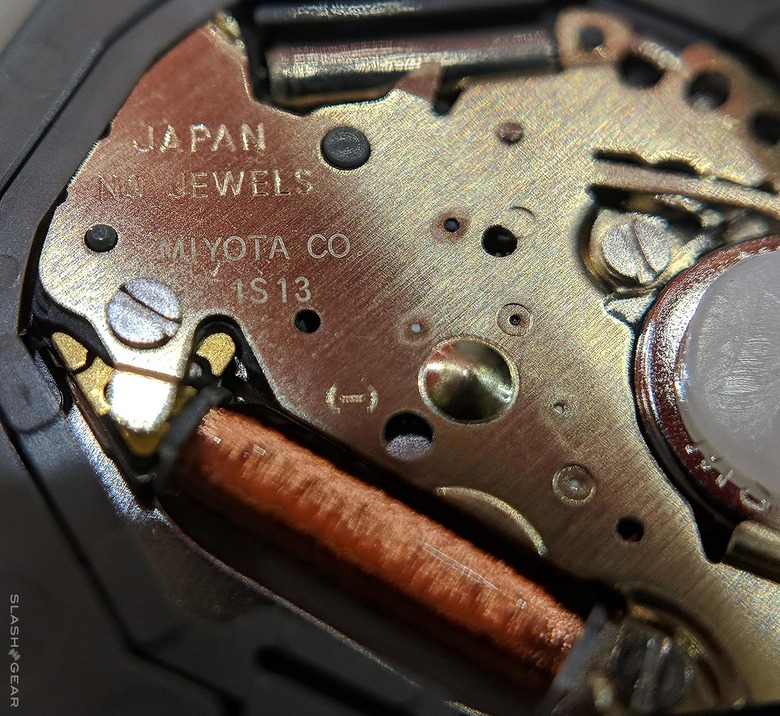 OF NOTE: Even though a fool like me took this watch's backside off to look inside, I recommend you DO NOT do the same. Unless you're a watch-fixing professional, you're not gonna want to mess with the itsy-bitsy pieces that have the potential to get wrecked when you're inside. It's just not worth the potential for chaos, so enjoy these photos and skip the process for yourself.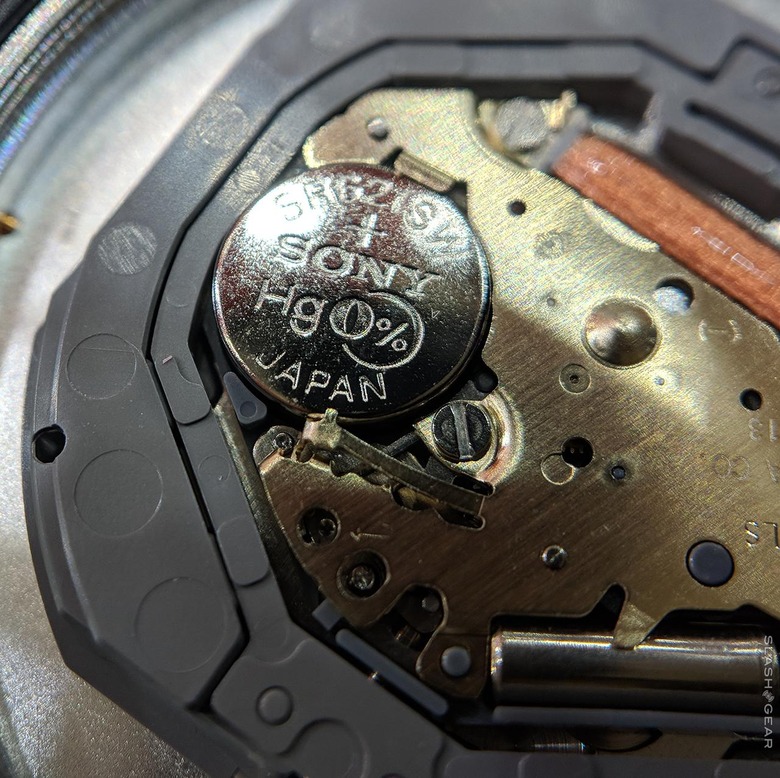 The strap we have with this review unit is a Recycled Green with printing underneath. There you'll find a TRIWA logo and a classic 3-arrow recycled symbol. This strap is surprisingly comfortable and soft for something recycled – I suppose I'm just used to smaller amounts of finesse for products made more en masse – here we've got some subtlety, which is nice.
Judgement
The simplicity in detail of this watch understates the importance of the program which made it a reality. It's a rare thing, being able to contribute to a cause so noble whilst, in addition, receiving a piece of hardware that's as fine as this. Every piece of this amalgamation of hardware elements looks and feels high-quality, beautiful, and genuine.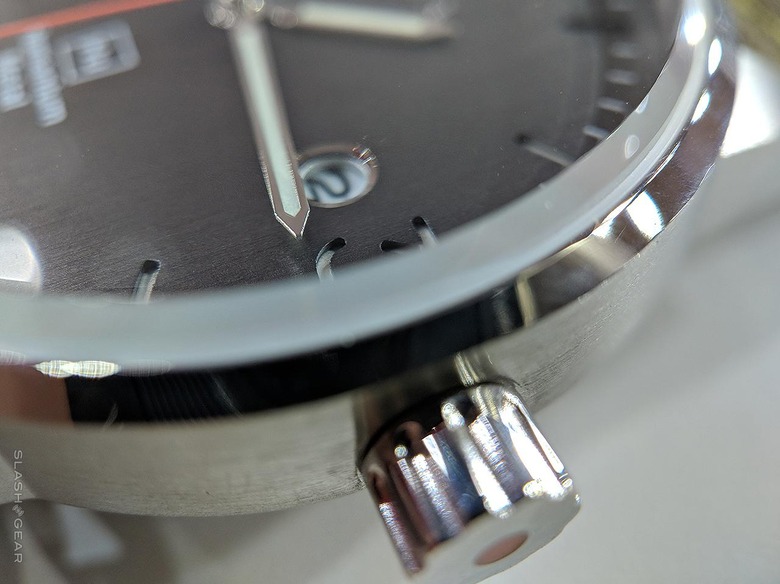 This watch can be found over at Kickstarter at the time at which this review is set to go public. It'll likely appear at TRIWA thereafter. Right now there's a tier at which a contribution of $227 | €196 | £171 can purchase a watch, and TRIWA suggests this is 35% off retail price – we'll see!
More Humanium
The Humanium Metal project was made in response to the proliferation of illegal firearms worldwide. "IM Swedish Development Partner was founded in 1938 and has vast experience of working in countries struggling with armed violence. Humanium Metal by IM was initiated in the spirit of goal 16 in Agenda 2030, recognizing how illegal firearms is undermining a sustainable and democratic development."
The first and active locations for the melting down and processing of illegal firearms for use in Humanium Metal were Guatemala and El Salvador. Negotiations are underway for future production cycles in Honduras and Columbia.