TRIKLITS Bring Burning Man Home

After criticising Mathmos for lacking innovation in their lighting, here's something actually interesting that, ostensibly, is all about the colour-changing that has become the bigger brand's forte in recent years.
TRIKLITS are rope-lights with a difference: 24 plastic balls in a string, each containing red, green and blue LEDs so that they can mix up any colour you desire. A small controller box lets you choose between – and tweak – 30 different patterns, plus you can daisychain multiple strings together and have them synchronise. Perhaps most interestingly, the external interface jack lets you control the lights with a computer or some sort of control system.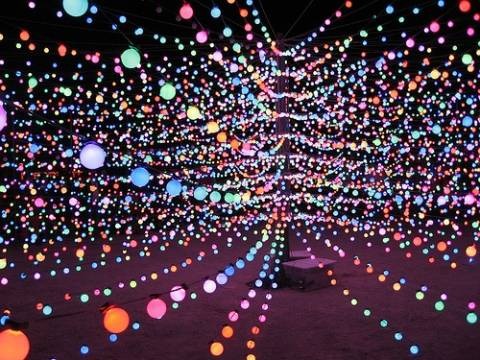 These are the same light strings that were used so effectively at this year's Burning Man festival, bringing hundreds of them together to make the mesmerising Cubatron installation. It's great that home users can get the chance to play around with them too!
A string of 24 lights costs $100, while an add-on USB interface is £25.